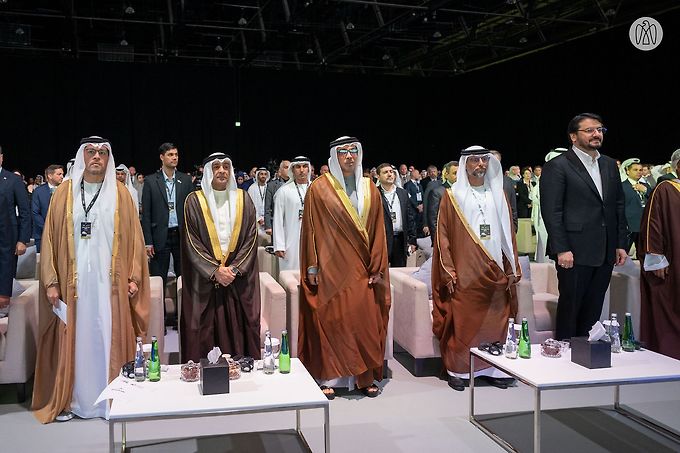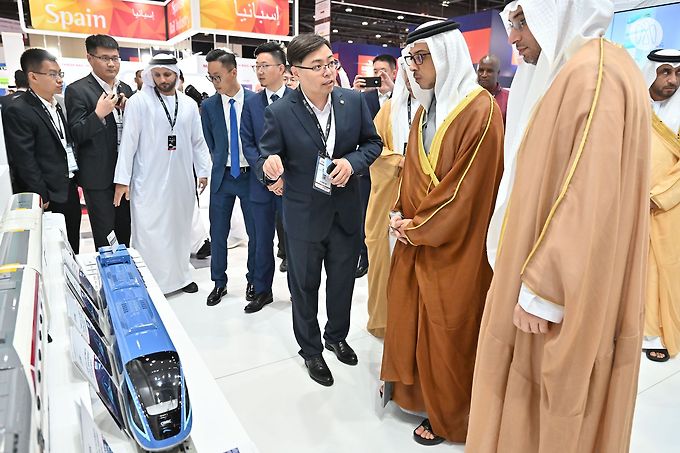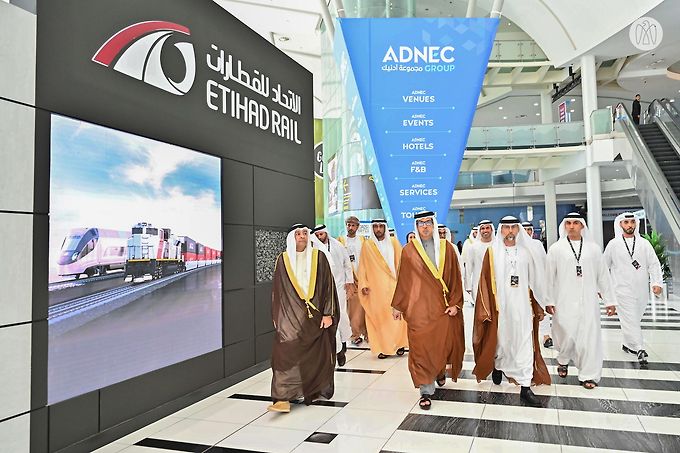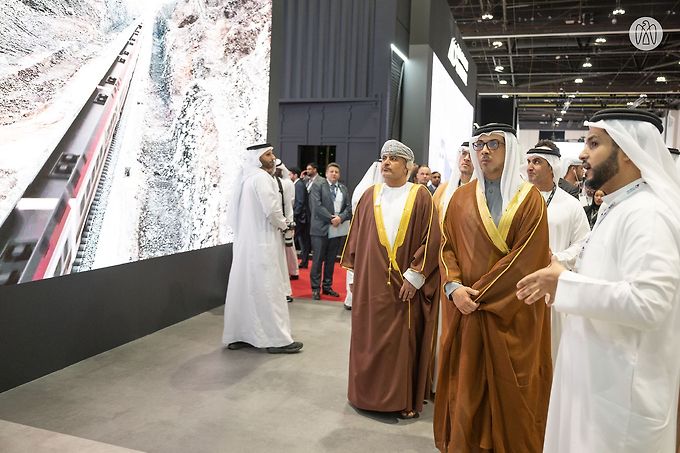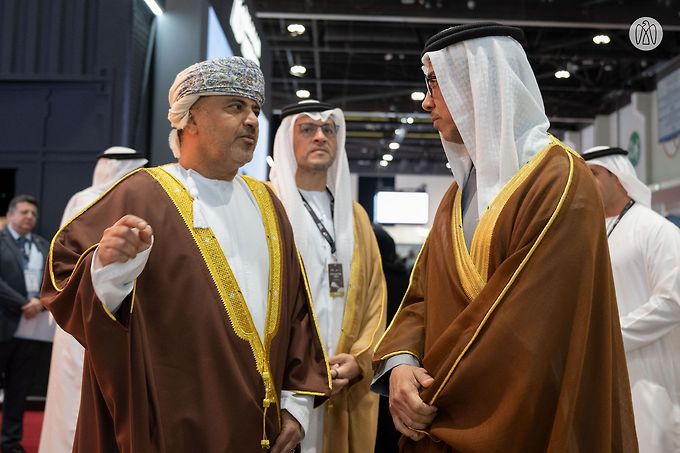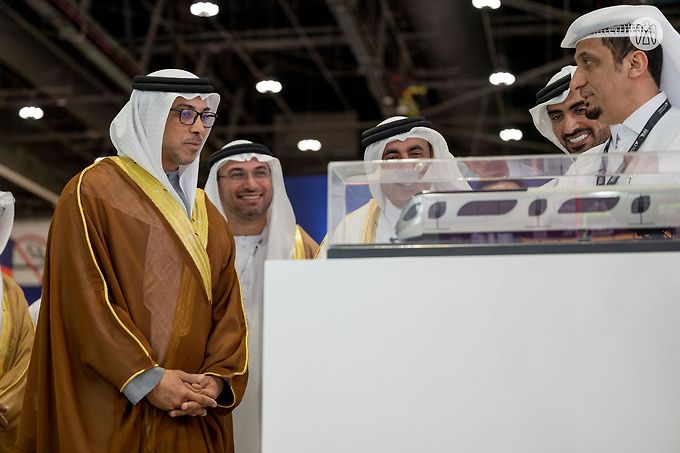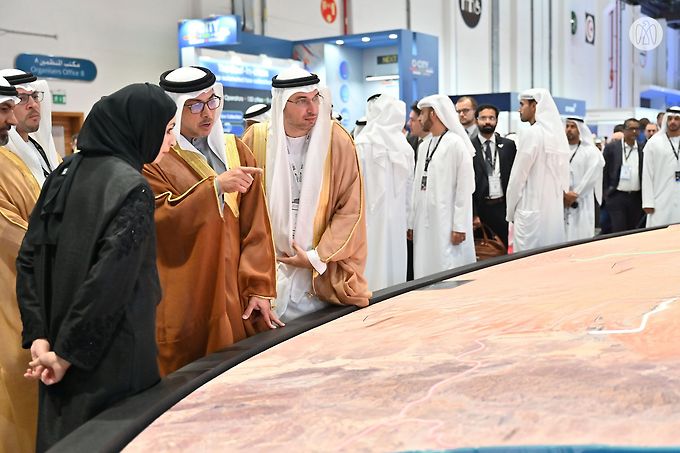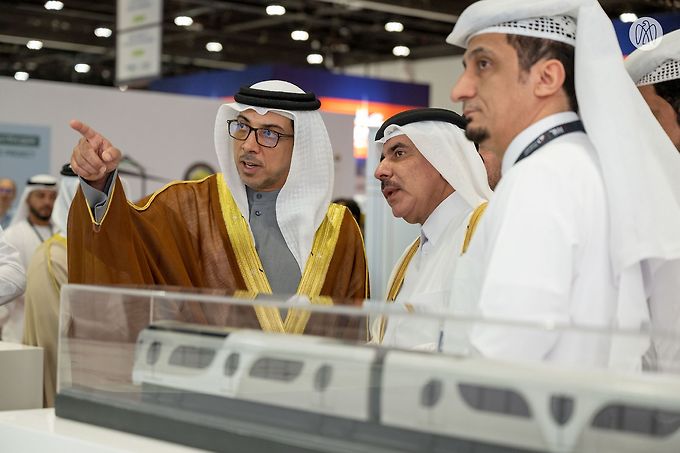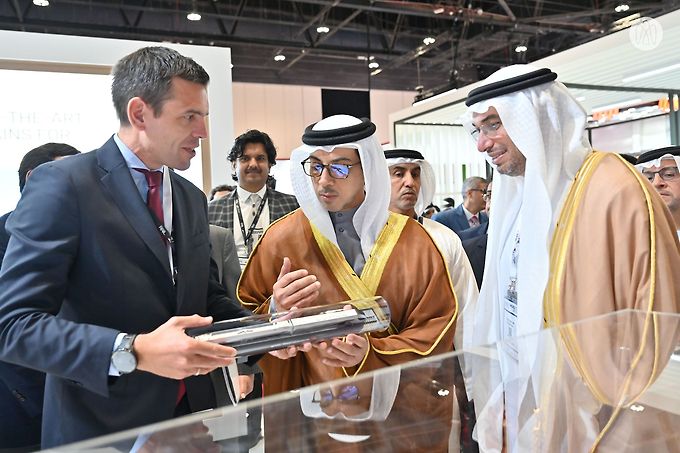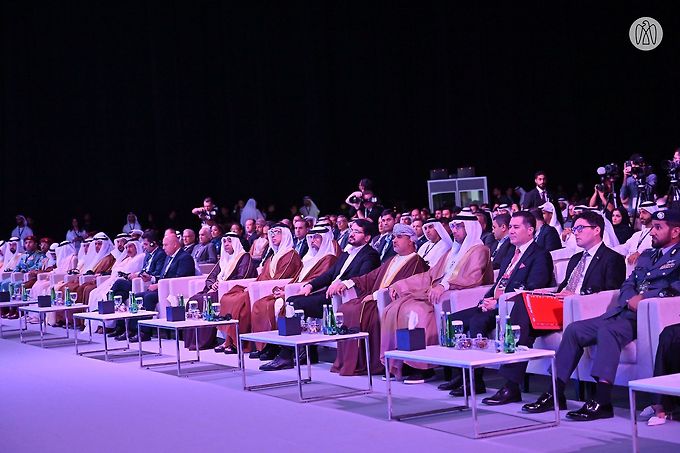 His Highness Sheikh Mansour bin Zayed Al Nahyan, Vice President, Deputy Prime Minister and Minister of the Presidential Court, attended the opening ceremony of the 17th Middle East Rail 2023, the region's leading event for rail innovation, technology and strategy, today at Abu Dhabi National Exhibition Centre (ADNEC).
The opening ceremony was attended by Jasem Mohamed AlBudaiwi, Secretary General of the Cooperation Council for the Arab States of the Gulf, Suhail bin Mohammed Faraj Faris Al Mazrouei, Minister of Energy and Infrastructure, senior UAE officials and several transportation ministers and chairpersons and CEOs of some of the world's largest railroad companies, in addition to key figures and manufacturing companies' representatives of transportation industry.
Sheikh Mansour bin Zayed said the UAE leadership pays special attention to the development of the transport sector and railway industry and to the extension of its train network in order to promote development throughout the country, given the vital role that railways play in supporting the economy, promoting investment opportunities and strengthening human and commercial ties.
Sheikh Mansour commended the vision of H.H. Sheikh Theyab bin Mohamed bin Zayed Al Nahyan, Chairman of Etihad Rail, for the development of Etihad Rail's strategic projects, which articulates the UAE's aspirations to be a leader in the transportation and shipping sectors, strengthening inter-city transport and building strategic partnerships with major rail actors.
Sheikh Mansour also watched a documentary on the Etihad Rail's achievements.
The event attracts more that 10,000 attendees. A two-day programme will host over 400 industry leading speakers from across the region and beyond with dedicated conference theatres themed around Sustainability, Digital Innovation and Innovative Mobility. This year's exhibition sees over 300 exhibitors join from across the globe, bringing you cutting edge products and solutions from the entire transport ecosystems.
The agenda features over 100 conference presentations, panels and interviews covering; connected and intelligent systems, automated and safe processes, IoT and data analysis, sustainable operations and much more.
The event's sessions are led by the industry's leading figures, forward-thinking senior executives and the key decision makers who are reshaping the industry.
A panel discussion will focus on Fast-tracking to the world by land, sea & rail: role of rail in accelerating the UAE's multimodal capability and value proposition as a hub for global manufacturing, trade and logistics.
The 2023 edition is hosted by Etihad Rail, bringing together public and private transport operators, government, engineering and construction, logistics and technology providers to plan and develop future projects. Middle East Rail is intentionally designed to inspire, encourage knowledge exchange and to showcase innovative solution providers who promise world-class excellence and infrastructure delivery.
International pavilions feature an all-star line-up of international companies, transforming the railway industry across the region, showcasing the latest tech and innovation from around the world.