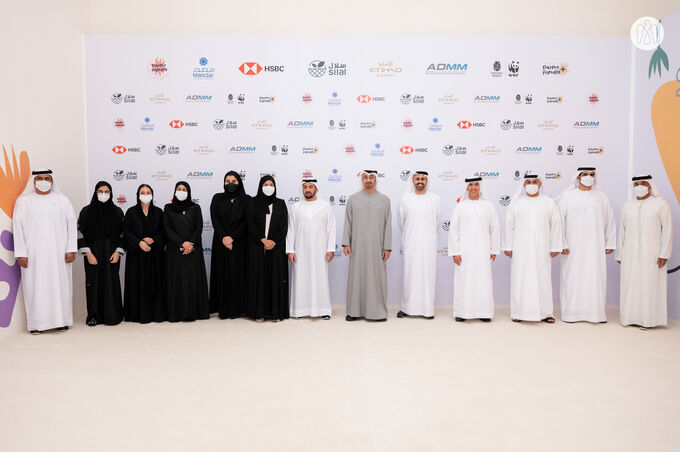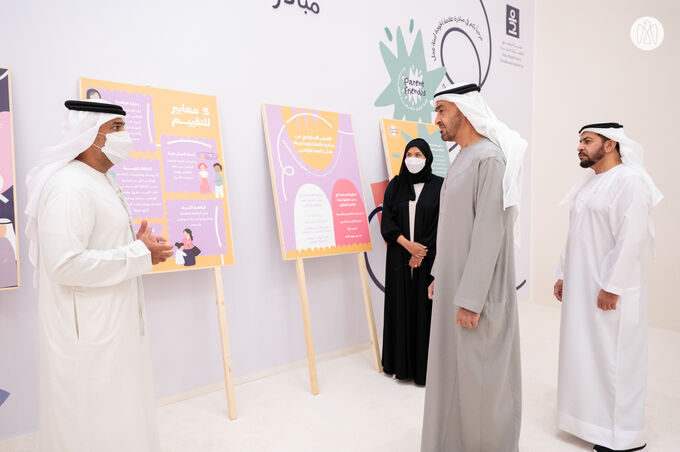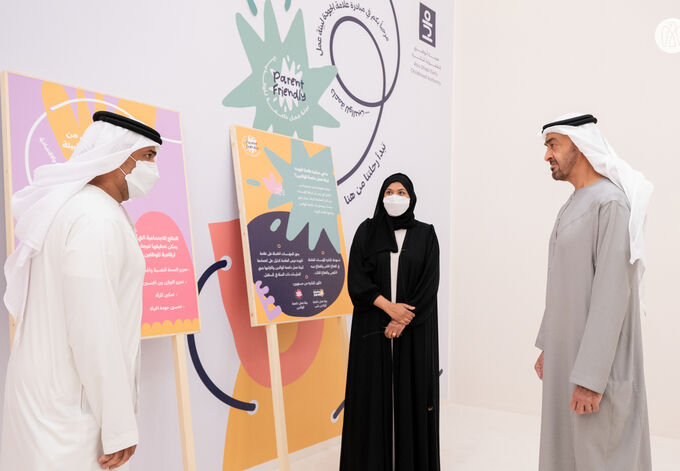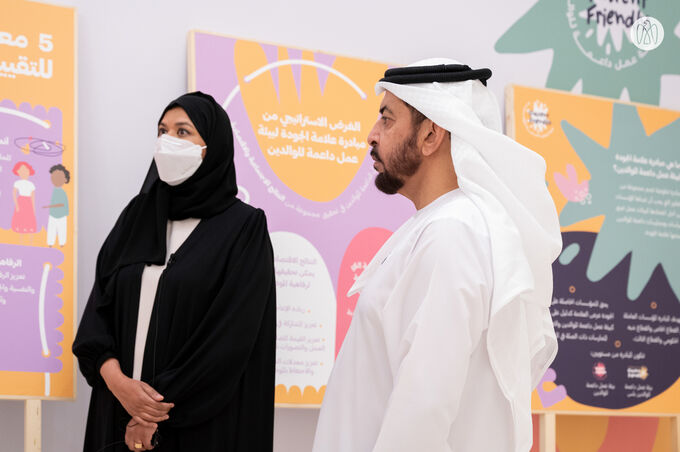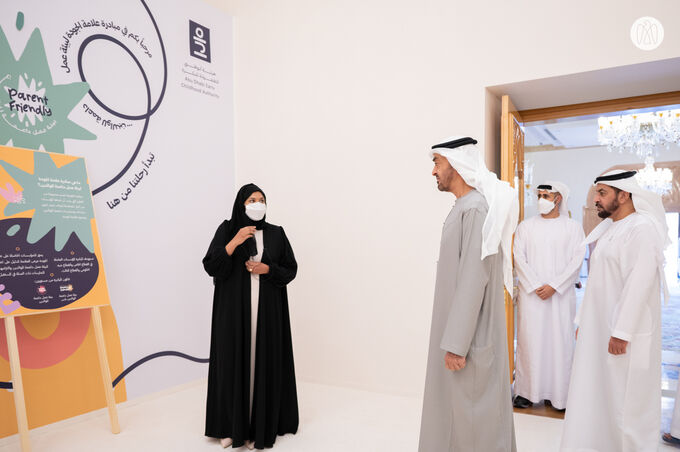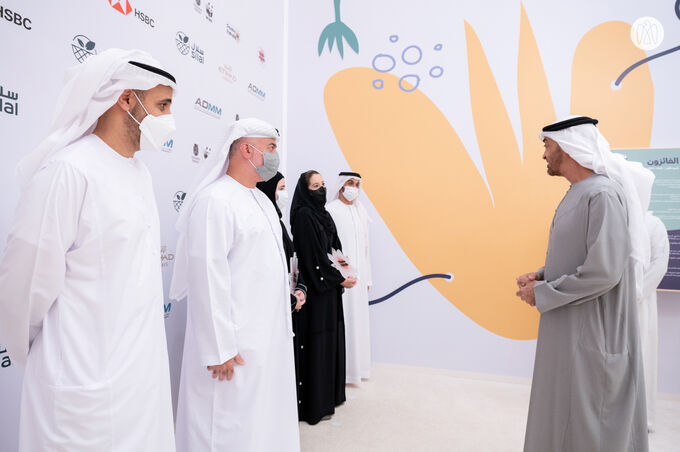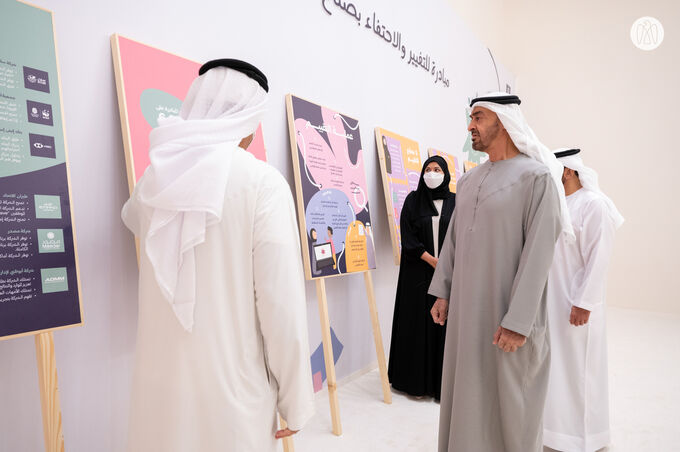 President His Highness Sheikh Mohamed bin Zayed Al Nahyan, honored, on Tuesday, the winners of the 1st cycle of the Parent-friendly Label (PFL), at Qasr Al Bahar. Launched by the Abu Dhabi Early Childhood Authority (ECA), the initiative encourages Abu Dhabi's semi-government, private and third sector entities to adopt parent-friendly work practices and policies. The Label also supports working parents as they care for their children and encourages a better work-life balance.
The recognition was attended by HH Sheikh Hamdan bin Zayed Al Nahyan, Ruler's Representative in Al Dhafra Region, HH Sheikh Khalid bin Mohamed bin Zayed Al Nahyan, Member of the Abu Dhabi Executive Council and Chairman of the Abu Dhabi Executive Office, HH Sheikh Theyab bin Mohamed bin Zayed Al Nahyan, Chairman of Abu Dhabi Crown Prince Court and Chairman of ECA, HH Sheikh Hamdan bin Mohamed bin Zayed Al Nahyan, HE Sheikh Mohamed bin Hamad bin Tahnoon Al Nahyan, Advisor of Special Affairs at the Ministry of Presidential Affairs, HE Hessa bint Essa Buhumaid, Minister of Community Development, HE Dr. Mugheer Khamis Al Khaili, Chairman of the Department of Community Development, HE Sana Mohamed Suhail, ECA's Director General, and leaders of the PFL-winning organizations.
In this regard, HH Sheikh Mohamed bin Zayed welcomed the PFL winners, expressing his confidence in their role in pushing forward the country's comprehensive and sustainable development journey. His Highness also praised their efforts to empower young children, ensure their development and wellbeing, fulfill their developmental needs, and support the national strategy to prepare the UAE for the next 50 years by developing the community and preparing children for the future.
Sheikh Mohamed emphasized the need to streamline this initiative to enable all the country's organizations to apply for the PFL and expand the adoption of the parent-friendly practices and policies in various workplaces as an essential part of a positive organizational culture, and a major step towards creating a robust child-centered societal culture. His Highness urged the PFL winners to keep up adopting and developing the best practices that impact children positively, to maintain the label and obtain its higher level which is called PFL+.
From his side, HH Sheikh Theyab bin Mohamed affirmed that parent-friendly workplaces enable working parents to efficiently contribute to their children's emotional, cognitive and behavioral development of their children during their early childhood. He also added that parent-friendly work polices help strengthen social and family bonds by achieving work-life balance, increase employees' engagement, productivity, wellbeing and retention, improve organizations' capabilities to attract talent and expertise, thus ensuring their development.
Sheikh Theyab said that the initiative contributes to empowering working parents to narrowing the gap between the public and private sectors in terms of work policies and benefits to parents, increasing the attractiveness of the semi-government and private sectors to citizens, and building a brighter, prosperous economic future.
"The PFL promotes Abu Dhabi's position as a child-friendly city by encouraging innovation at workplaces and creating innovative future work environments that support various developmental aspects, particularly those related to child development," Sheikh Theyab added.
The six national organizations recognized for earning the PFL, for their parent-friendly policies and practices, included HSBC Bank, Masdar, Emirates Nature-WWF, Abu Dhabi Motorsports Management, Etihad Airways, and Silal.
The PFL's 1st cycle for 2022-2024 targeted more than 70 national entities. All applications were carefully reviewed to ensure applicants' eligibility to receive the Label's two levels, the Parent-Friendly and Parent-Friendly Plus. In addition, applications were assessed by an independent judging panel to ensure transparency and impartiality. The initiative has positively impacted more than 6,600 children and 20,000 employees.
ECA seeks to support Abu Dhabi's young children to thrive by enabling and collaborating with its partners from various industries and sectors. The Authority also encourages workplaces to adopt parent-friendly policies, facilities and work practices, in its endeavors to ensure that every young child is healthy, confident, curious, able to learn and develop strong values in a safe, family-friendly Abu Dhabi.