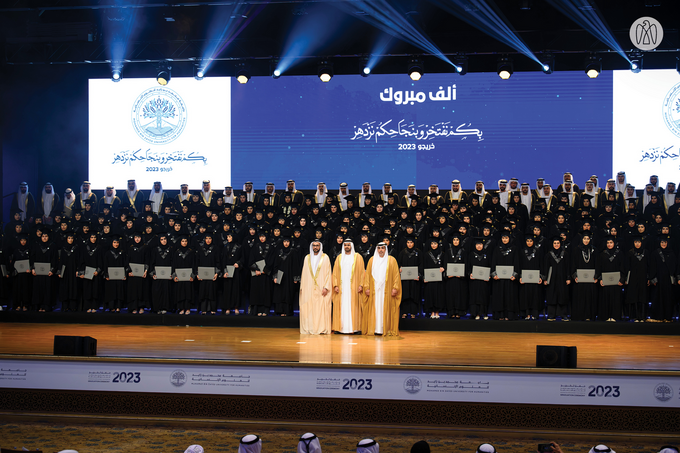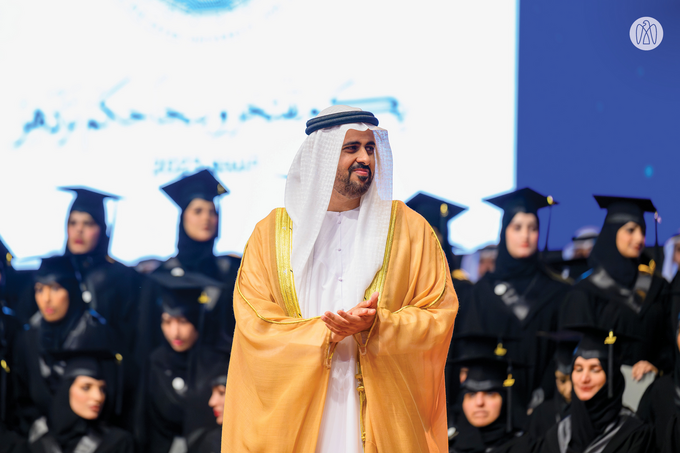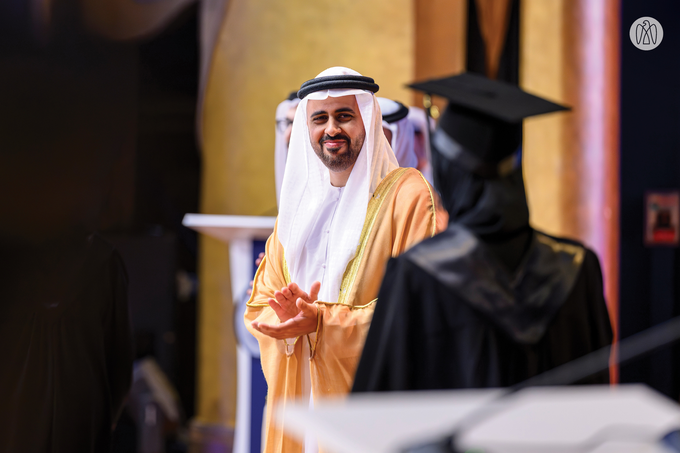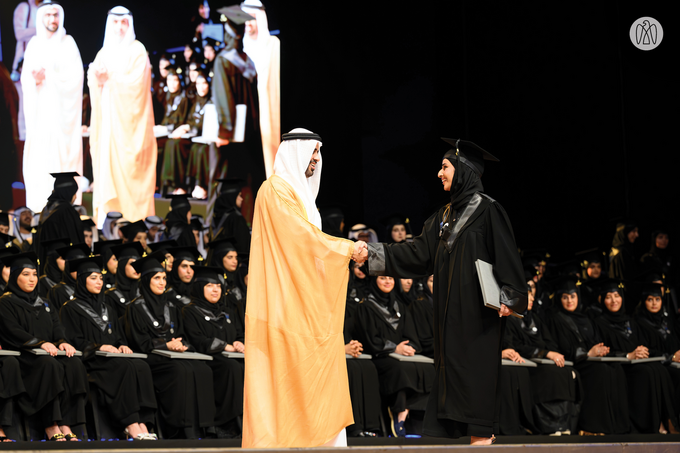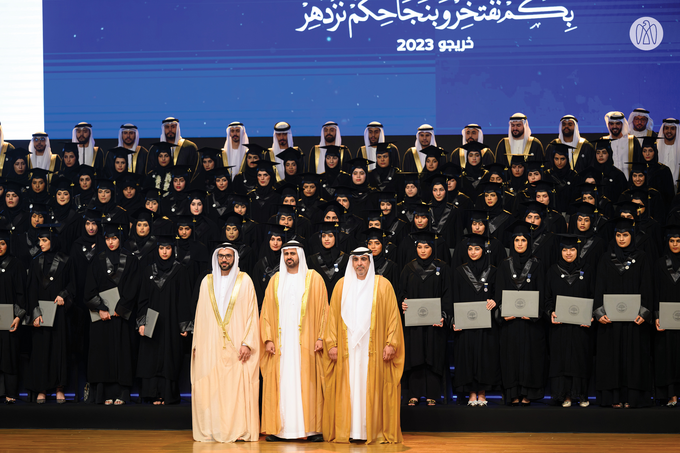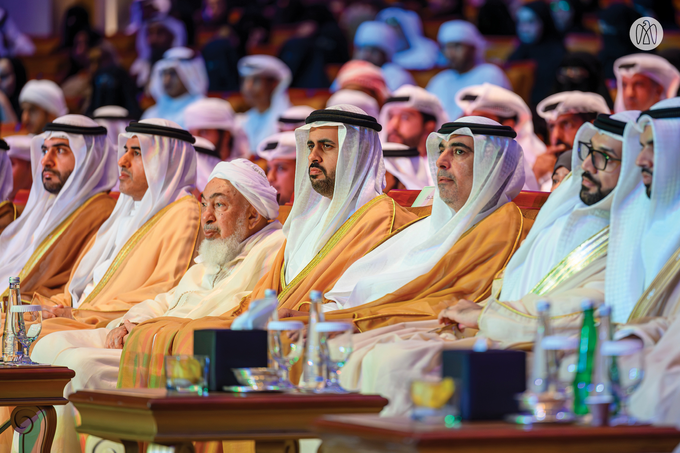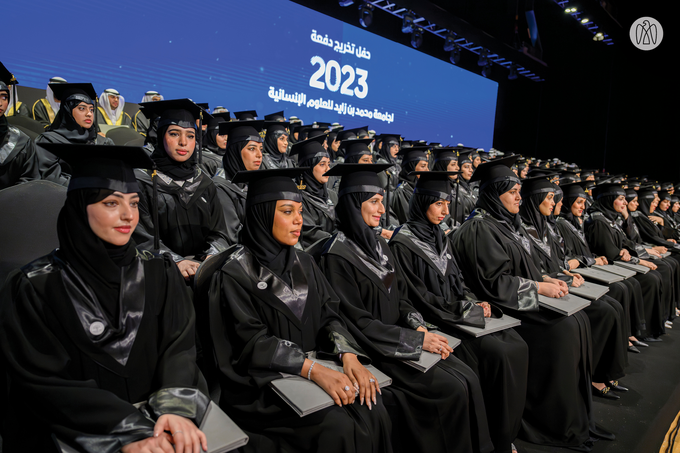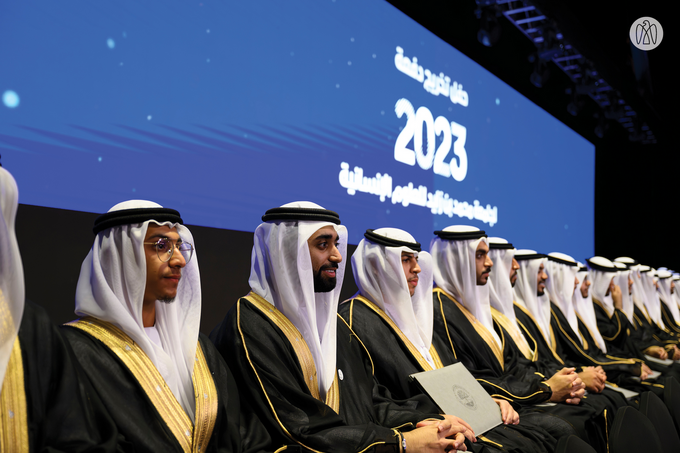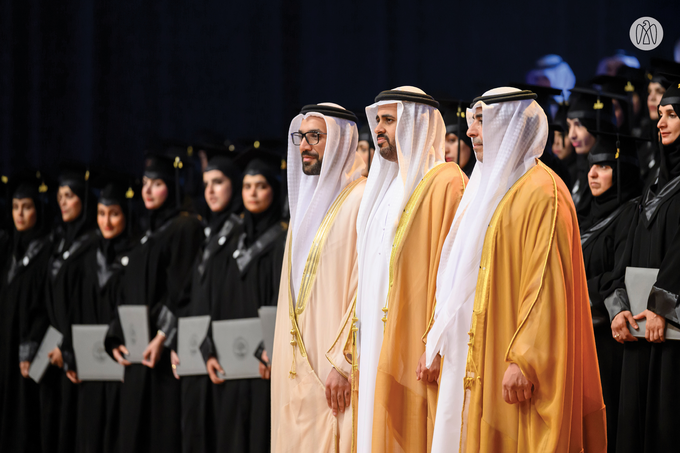 His Highness Sheikh Theyab bin Mohamed bin Zayed Al Nahyan , Chairman of the Office of Development and Martyrs Families Affairs at the Presidential Court, has attended Mohamed Bin Zayed University for Humanities' graduation ceremony. The ceremony featured a total of 242 students who received bachelor's, master's and doctoral degrees across various subjects.
For this year's batch, 232 earned bachelor's degrees, while 10 others received their postgraduate diplomas. The event was attended by numerous dignitaries, including His Excellency Sheikh Abdallah bin Bayyah, president of MBZUH's higher academic council, chairman of the Emirates Council for Legal Fatwa, His Excellency Mohammed Abdullah Al Junaibi, Chairman of Federal Protocol and Strategic Narrative Authority, and His Excellency Dr Mohamed Rashid Al Hameli, Chairman of the Board of Trustees of the MBZUH, distinguished members of the university's board, as well as esteemed director generals of various government entities and educational institutions. Also in attendance were senior officials of the university, led by the chancellor, the faculty and administrative staff, as well as the graduates' families.
His Excellency Dr Mohamed Rashid Al Hameli, Chairman of the Board of Trustees of the MBZUH, shared his appreciation for His Highness Sheikh Mohamed bin Zayed Al Nahyan, the President of the UAE, whose support and patronage have been instrumental in the foundation and growth of the university.
His Excellency Dr Mohamed Rashid Al Hameli said: "We owe our success and our path towards becoming a world-class educational institution to His Highness' unwavering support. We remain devoted to our mission to educate our youth in a broad range of academic pursuits. Moreover, we will continue to preserve the invaluable legacy of the late Sheikh Zayed bin Sultan Al Nahyan."
Dr Khalifa Mubarak Al Dhaheri, Chancellor of the MBZUH, said: "From this standpoint, our university has become an integral part, carefully developing academic programmes that enhance and add new dimensions to the UAE's educational system. We are conscious in our aims to map strategies for quality education that cater to the development needs of our nation, focused on the pillars of a knowledge economy, creativity and innovation."
Dr Khalifa Mubarak Al Dhaheri also emphasised the university's ongoing commitment to hiring academic professionals from around the world, to cultivate a rich scholarly environment and keep pace with progress by deploying advanced teaching methodologies.
One of the students, Fatima Mubarak Al Ketbi, spoke at the ceremony on behalf of the graduates. She thanked the university, the staff and the teachers for the support, and for creating an environment for academic success.
Fatima Mubarak Al Ketbi, said: "They provided everything the students needed to reach their goals in learning, knowledge and excellence."