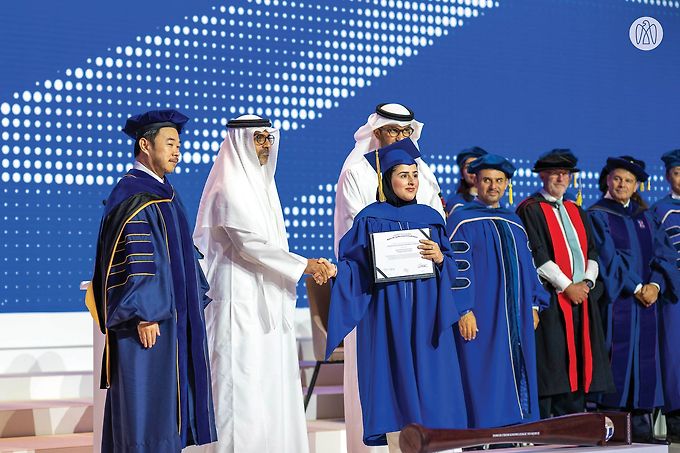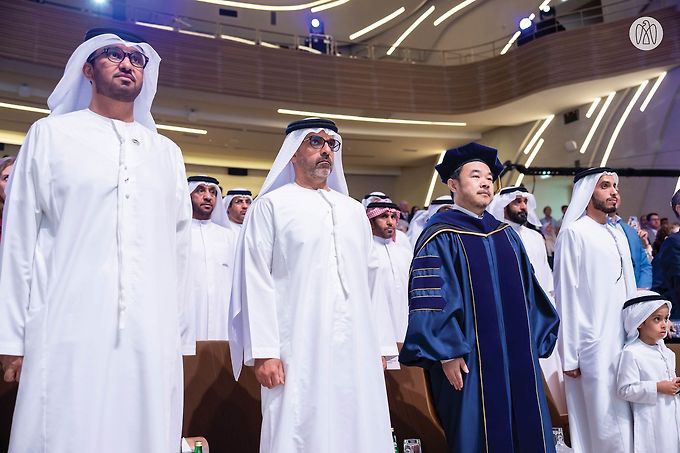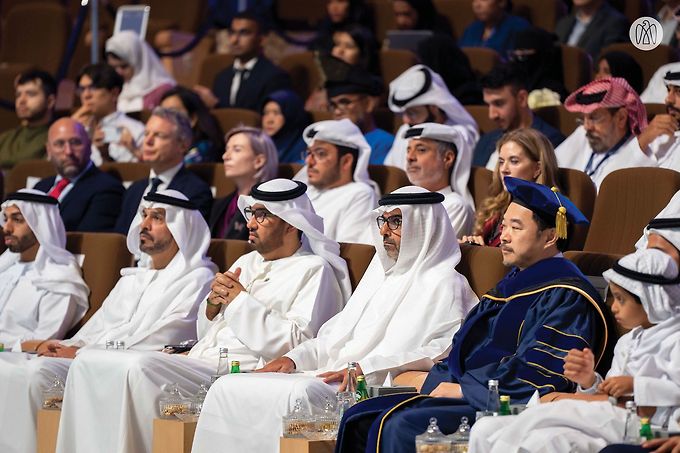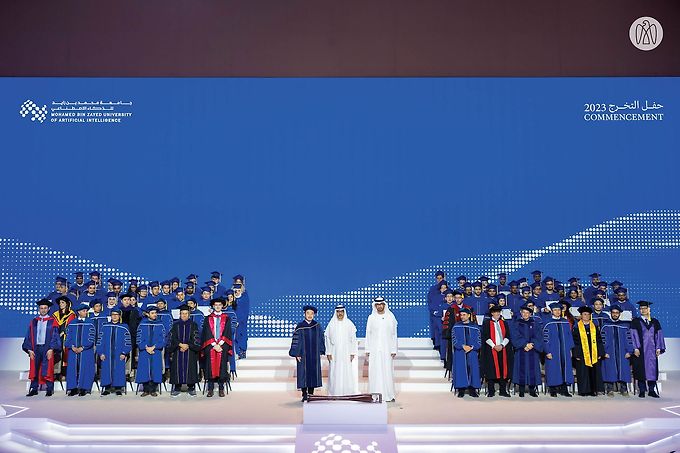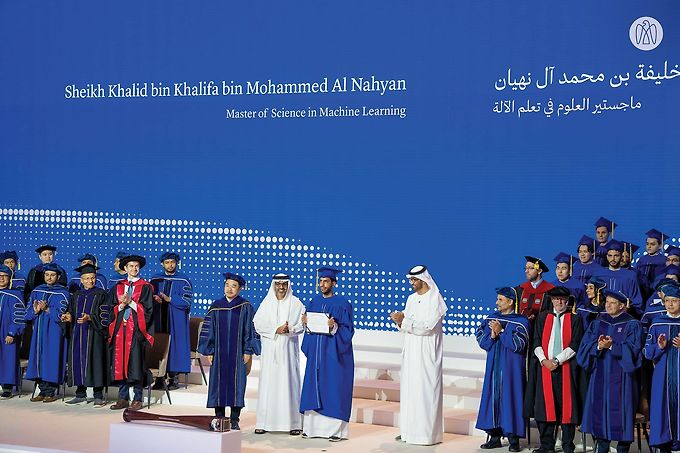 In the presence of His Highness Sheikh Hamed bin Zayed Al Nahyan, Mohamed bin Zayed University of Artificial Intelligence (MBZUAI) today hosted Commencement for the Class of 2023, its second cohort, strengthening AI talent capacity and contributing solutions to global challenges, including health, education, and climate.
The MBZUAI commencement ceremony celebrated 59 students graduating with a master's in computer vision (CV) and machine learning (ML), along with its first-ever natural language processing (NLP) graduates.
Hosted at the Abu Dhabi Energy Center, the event was attended by His Excellency Khalifa bin Mohammed bin Khalid Al Nahyan, UAE Ambassador to Jordan, His Excellency Dr. Sultan bin Ahmed Al Jaber, Minister of Industry and Advanced Technology, President-Designate of COP28 UAE and Chairman of MBZUAI's Board of Trustees, and Professor Eric Xing, MBZUAI President and University Professor, in addition to Members of the Board of Trustees and university faculty.
His Excellency Dr. Sultan Ahmed Al Jaber said: "The importance of AI is undisputed, which is why MBZUAI continues to push the boundaries of this technology through advanced research, strategic industry collaborations, and, of course, by empowering the next generation of AI experts. I am confident that the Class of 2023 will make a profound social and economic impact and develop tangible AI solutions that will help to overcome some of society's major challenges, particularlyin the areas of climate, healthcare, and education. AI adoption across industries will help meet the nation's goals by accelerating the diversification and growth of the UAE's economy while simultaneously unlocking significant increases in energy efficiency and emission reductions within hard-to-abate sectors.
"This December, the UAE will host COP28 – a task we approach with humility, a clear sense of responsibility, and a great sense of urgency. We must use every tool available to us to make transformational progress across the climate agenda and AI is one of the most powerful tools at our disposal."
Among the 59 students who graduated, 32 majored in ML, 20 CV, and seven in NLP. The Class of 2023 comprised 25 nationalities, hailing from countries including China, UAE, India, Pakistan, Kazakhstan, Hungary, Italy, and Jordan, highlighting the university's commitment to cultivating a diverse and inclusive learning environment that attracts top talent from around the world. More than half the graduating class undertook a voluntary industry internship to prepare them to go on and become creators and changemakers in healthcare, technology, energy, transport, and government.
His Excellency Al Jaber concluded by saying: "In a world that has never been more complex or more open to opportunity, you – the Class of 2023 - are ready to drive forward solutions that will advance the UAE and the world."
The Class of 2023 also had 17 academic papers published or accepted at major conferences and journals of international standing, including the IEEE/CVF Conference on Computer Vision and Pattern Recognition (CVPR 2023), Journal of Physics Energy, and IEEE Access journal. Several of them were invited to deliver workshops at leading conferences, including Association for Computational Linguistics (ACL 2022), the Conference on Neural Information Processing Systems (NeurIPS 2022), and International Conference on Learning Representations (ICLR 2023).
The ceremony included an MBZUAI Research Showcase, where faculty and students presented current projects highlighting the university's three key research pillars - health, climate, and education. Guests and attendees gained insight into the vital exploration taking place at MBZUAI and the importance of these pioneering projects utilizing AI to solve humankind's most pressing challenges.
MBZUAI President and University Professor Eric Xing said: "This is a pivotal time as wider public interest turns its attention to AI – and with the UAE's pace, scale, and ambition as a young nation, it offers a cosmopolitan hub of innovation that attracts the world's greatest minds in the field. I extend my congratulations to the Class of 2023 as they embark on the next stage of their journey. I encourage them to become RenAIssance Scholars, stay curious – continue to learn, to explore and to understand the world but most importantly to think deeply about how they will use the potential of AI to make a difference in the world."
Students from the Class of 2023 also represented MBZUAI in top national and international hackathons, achieving first and second places at IEEE SLT international hackathon (Qatar Computing Research Institute), G42's HackforSpace Hackathon, GITEX x AI-everything High Flyer challenge, Pioneers 4.0 Hackathon Series (MoIAT and EDGE), Cisco Power of the Future Challenge, Dubai Roads and Transport Authority's (RTA) Transport Hackathon, and Agritech Hackathon (Abu Dhabi Agriculture and Food Safety Authority (ADAFSA), among others.