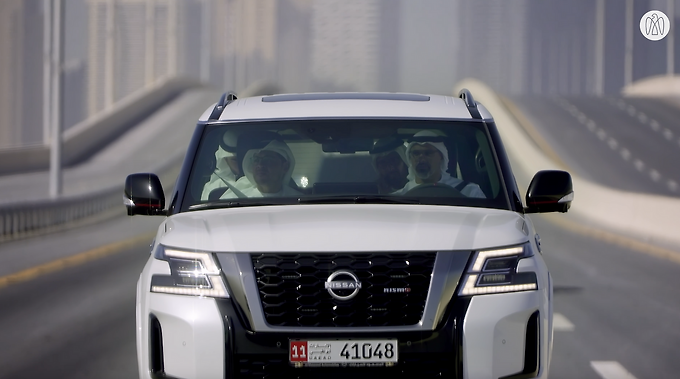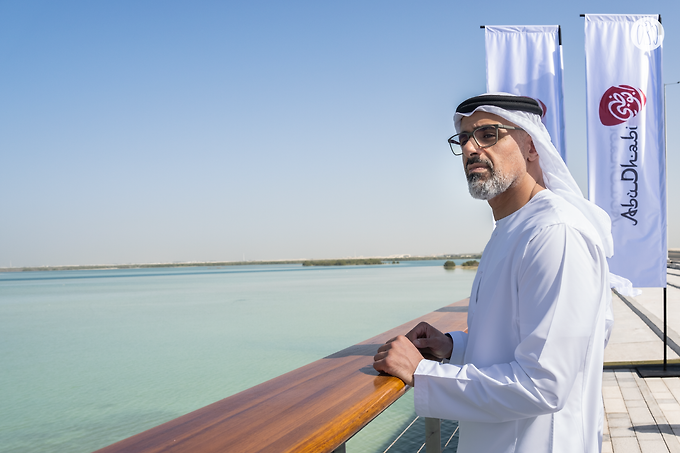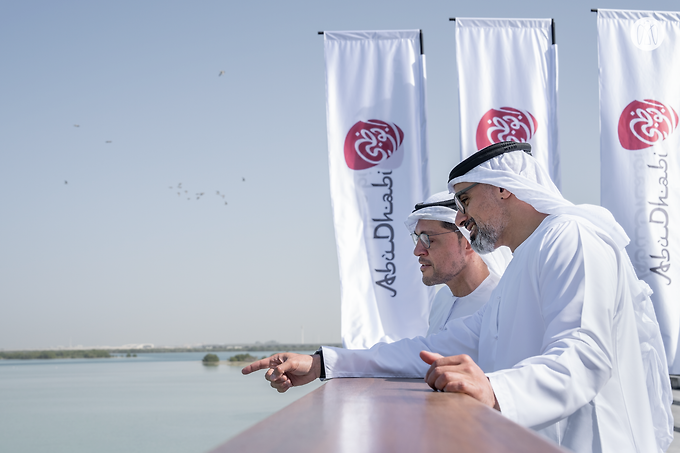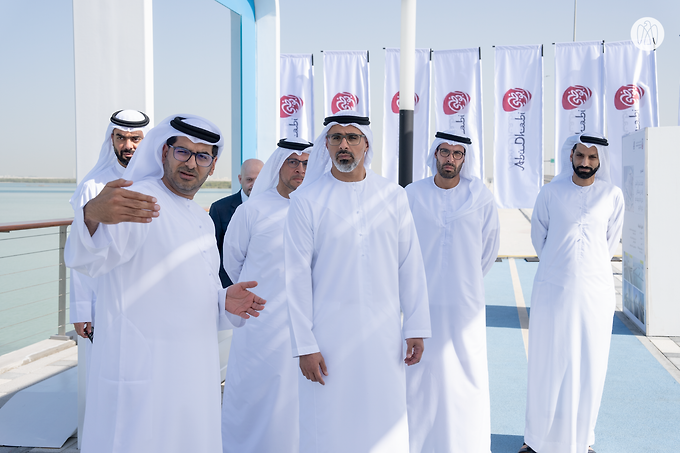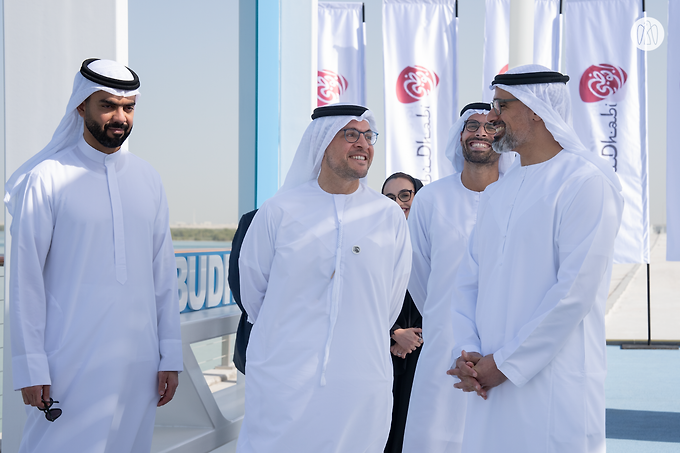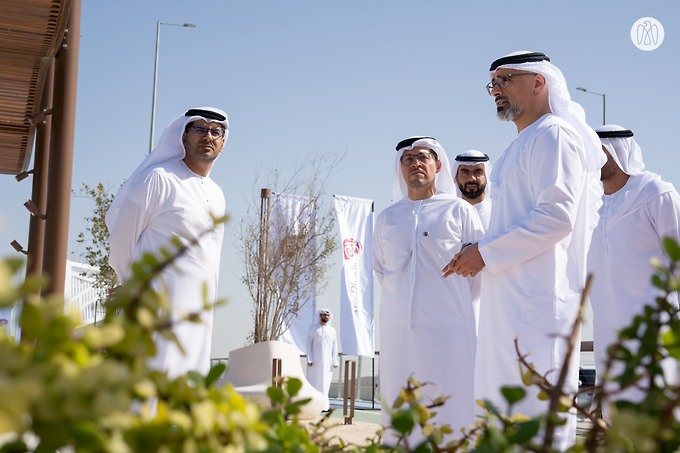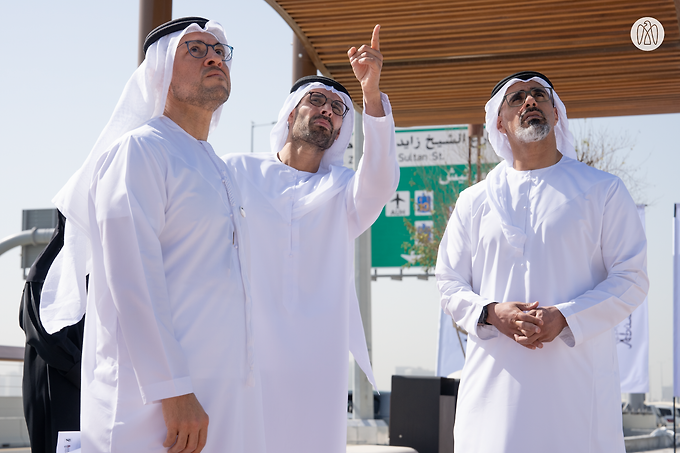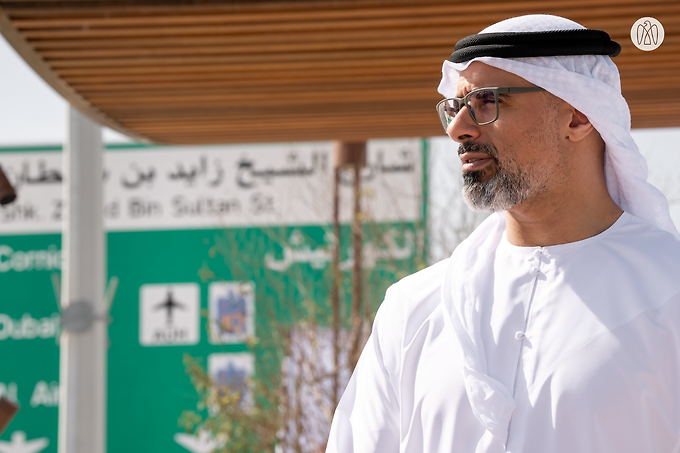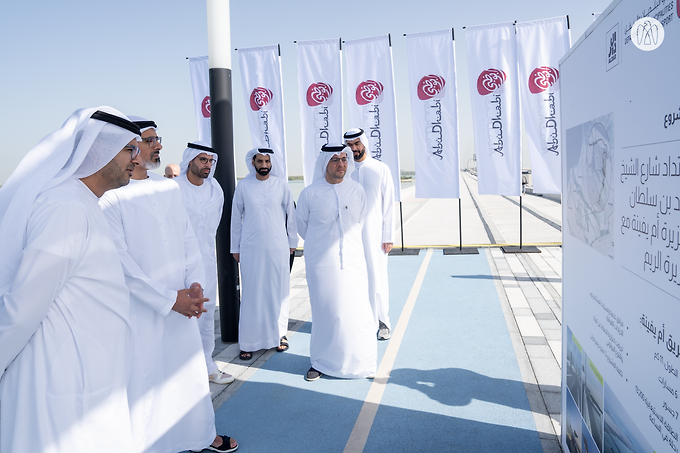 His Highness Sheikh Khaled bin Mohamed bin Zayed Al Nahyan, member of the Abu Dhabi Executive Council and Chairman of the Abu Dhabi Executive Office, today inaugurated Umm Yifeenah Bridge in Abu Dhabi – a new 11-kilometre superhighway that creates a rapid trans-city connection between Al Reem Island, Umm Yifeenah Island and Sheikh Zayed bin Sultan Street, reducing traffic and enhancing quality of life in Abu Dhabi.
The mega-infrastructure project also includes walking and cycling paths, as well as bike rental facilities, providing sustainable transportation as well as additional opportunities for the community to live active, healthy lives.
The six-lane highway, which has been built by Aldar in partnership with the Department of Municipalities and Transport (DMT), can accommodate 6,000 journeys per hour in each direction (12,000 per hour in total).
His Highness was accompanied by His Excellency Mohamed Ali Al Shorafa, Chairman of the Department of Municipalities and Transport (DMT); His Excellency Mohamed Khalifa Al Mubarak, Chairman of the Department of Culture and Tourism – Abu Dhabi (DCT Abu Dhabi) and Chairman of Aldar; His Excellency Saif Seed Ghobash, Secretary General of the Executive Council; and Talal Al Dhiyebi, Group CEO of Aldar.
The Umm Yifeenah Bridge is the first phase of the Mid-Island Parkway project that is currently under design, and will ultimately link Al Reem Island and Saadiyat Island, Al Raha Beach and Khalifa City. The larger network is planned for completion by 2028 and is being designed to include cycle tracks, walking trails and incorporate sustainable landscapes that will provide vistas of the natural environment of the area and Abu Dhabi's skyline.
His Excellency Mohamed Ali Al Shorafa, Chairman of DMT, said: "We are proud to complete this landmark project, which reflects the leadership's vision to provide world-class infrastructure, enhance community welfare, and offer a business-friendly environment that ensures the best possible quality of life for the emirate's citizens, residents and visitors."
DMT and Aldar have implemented a number of sustainability measures to preserve the natural environment in the area surrounding the project, including the use of precast concrete elements and arch-shaped causeways to ensure water flow and minimise adverse impact on mangrove wetlands. The arched causeway also maintains navigation channels for boats and allows fish and other marine animals to pass freely. Mangrove trees were also planted on nearby Jubail Island. The company sourced 85 per cent of materials locally, as part of its commitment to adding value to the local economy.
Talal Al Dhiyebi, Group CEO of Aldar, said: "Um Yifeenah Bridge is another flagship project in the company's urban development portfolio. It embodies our leadership's aspirations to provide world-class infrastructure projects and services in Abu Dhabi. We are proud of the role the company has played in delivering this vital project, by capitalising on vast expertise in constructing vital and sustainable projects. As a strategic Abu Dhabi Government partner, Aldar remains committed to supporting urban planning efforts and will continue to work with its partners in the public sector to advance sustainable development and quality of life in the emirate."