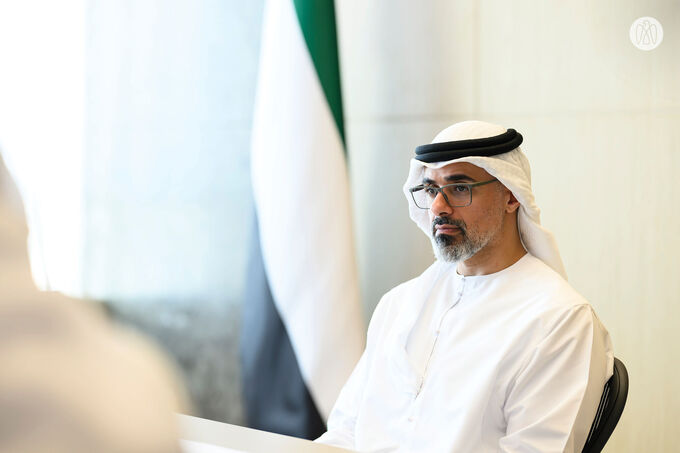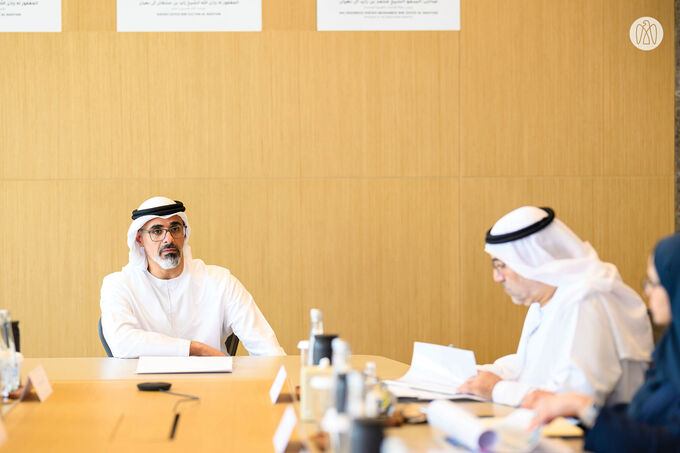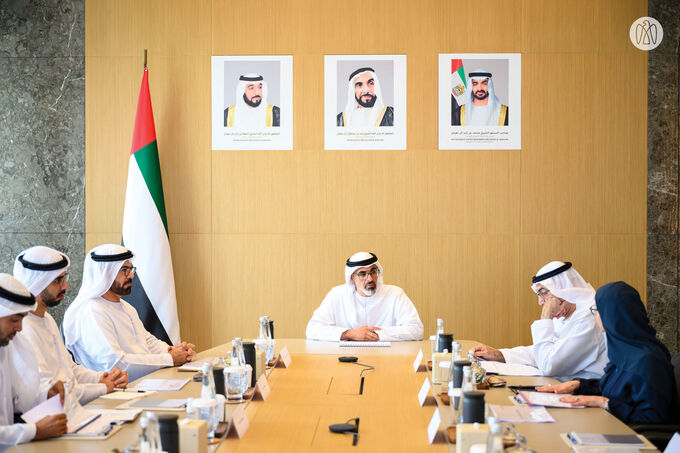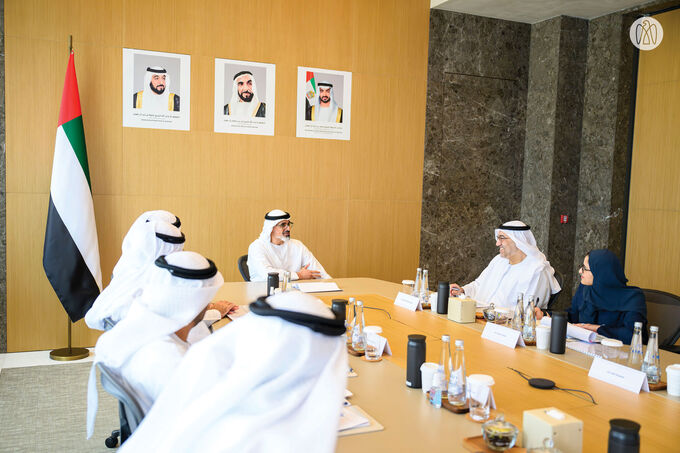 His Highness Sheikh Khaled bin Mohamed bin Zayed Al Nahyan, Crown Prince of Abu Dhabi and Chairman of the Abu Dhabi Executive Council, has chaired the meeting of the Emirates Genome Council.
During the meeting, they reviewed progress on precision medicine initiatives and R&D priorities aimed at accelerating solutions for the prevention and treatment of genetic disorders.
His Highness Sheikh Khaled bin Mohamed bin Zayed Al Nahyan, at the start of the meeting, emphasised that the leadership is committed to enhancing the community's wellbeing. His Highness also highlighted the importance of focusing on precision medicine initiatives to further enhance public health in the UAE and reinforce the country's position at the forefront of global genomic research and innovation.
R&D priorities
His Highness reviewed the prioritised R&D areas identified by the council's Genomics Research Committee, which focus on public health priorities in the UAE. The agenda aims to optimise the utilisation of genomics in precision medicine programs that will improve early detection of the most common genetic health conditions, in addition to enabling personalised treatment approaches that prioritise patient outcomes and enhance quality of life. The findings will also inform public health policies and support sustainable public health strategies.
So far, 41 studies approved by the UAE's Institutional Review Boards (IRB) are underway, covering the most prevalent genetic diseases including cancer and cardio-metabolic conditions which account for the top two causes of mortality in the UAE. These include breast, colorectal and thyroid cancers; coronary artery disease; and diabetes mellitus among others.
Her Excellency Sarah bint Yousef Al Amiri, Secretary General of the Emirates Genome Council said: "Establishing priorities for genomic R&D is essential for the integration of effective precision medicine programmes. This will accelerate the introduction of solutions tailored to public health priorities and will have a significant impact on the community.
"Focusing on key public health areas will allow us to develop long-term solutions that reduce the prevalence and severity of commonly occurring conditions and have a lasting impact on the health and wellbeing of our community. Additionally, aligning research efforts with public health priorities will lead to more optimal collaborations between researchers, clinicians, and healthcare technology providers, and will fast-track delivery of truly personalised, precise and effective healthcare programmes."
Precision medicine programme updates
His Highness reviewed updates on pilot precision medicine programmes, which are linked to the R&D priority areas, in addition to recommendations on new clinical studies that could further the utilisation of genomics within the UAE's healthcare ecosystem. These include genetic disease prevention programmes that will accurately identify and predict disorders and enable preventive care, in addition to diagnosis programmes that support personalised treatments.
Significant genetic disease prevention programmes include the expansion of genetic pre-marital screening to cover 570 medical conditions. The programme, which was piloted by the Department of Health – Abu Dhabi in November 2022, is currently available at 19 medical clinics in the capital, with plans to pilot the program across the UAE. Plans are also in place to introduce newborn and targeted gene panel screenings.
Genetic disease diagnosis programmes piloted include the region's first breast cancer precision medicine programme, and a programme to support critically ill children in ICUs, with plans in place to launch programmes that focus on diabetes among other common genetic conditions.
Plans underway also include pharmacogenomics (PGx) programmes which are critical to supporting effective medication regimens and avoiding adverse effects for several major conditions.
Emirati Genome Program progress
The Emirati Genome Program (EGP), one of the largest population genomic initiatives in the world, has now reached a key milestone of 500,000 samples collected at 102 active sites across the nation. More than 400 schools in Abu Dhabi are taking part in the EGP, with plans to expand the opportunity for schools to participate nationwide.
The EGP is a significant project under the National Genome Strategy and will support the transformation of healthcare services in the UAE by providing high-quality genetic data that allows researchers, physicians, and scientists to identify the causes of genetic diseases, understand the type of genetic mutations, anticipate susceptibility to some diseases, and develop effective personalised healthcare plans. The initiative aims to collect 1 million samples, and the council has directed further collaborations be pursued to meet the national target.
The programme is implemented in collaboration with G42 Healthcare and is coordinated with healthcare regulators including the Ministry of Health and Prevention (MoHAP), Emirates Health Services Establishment, the Department of Health – Abu Dhabi, the Dubai Health Authority and Dubai Academic Health Corporation, as well as academic, medical and other institutions extending their support to the program.
The meeting was attended by H.E. Mohammed Abdullah Al Gergawi, UAE Minister of Cabinet Affairs and Chairman of the Federal Competitiveness and Statistics Authority; H.E. Abdul Rahman Mohammed Al Owais, UAE Minister of Health and Prevention; H.E. Omar Sultan Al Olama, UAE Minister of State for Artificial Intelligence, Digital Economy and Remote Work Applications; H.E. Mansour Ibrahim Al Mansouri, Chairman of the Department of Health – Abu Dhabi; H.E. Awad Sagheer Al Ketbi, Director-General of the of Dubai Health Authority (DHA); H.E. Dr. Amer Ahmed Al-Sharif, the CEO of Dubai Academic Health Corporation and President of Mohammed Bin Rashid University of Medicine and Health Sciences (MBRU); Professor Dr. Eric Xing, University Professor and President of the Mohamed bin Zayed University of Artificial Intelligence (MBZUAI); H.E. Dr. Yousif Mohammed Al-Serkal, Director-General of Emirates Health Services (EHS); and Fatima Sultan Al Zaabi, Director of the Department of Biodiversity at the Environment and Protected Areas Authority in Sharjah.