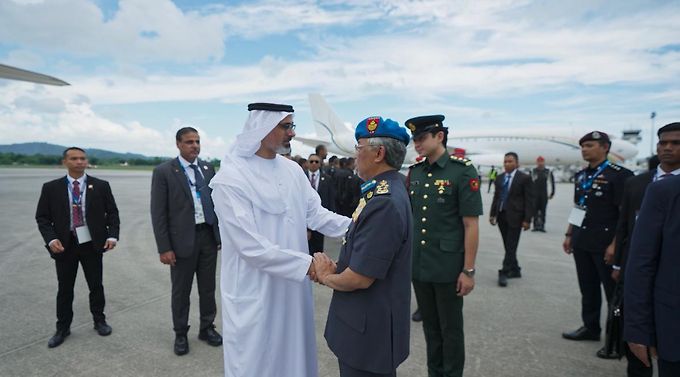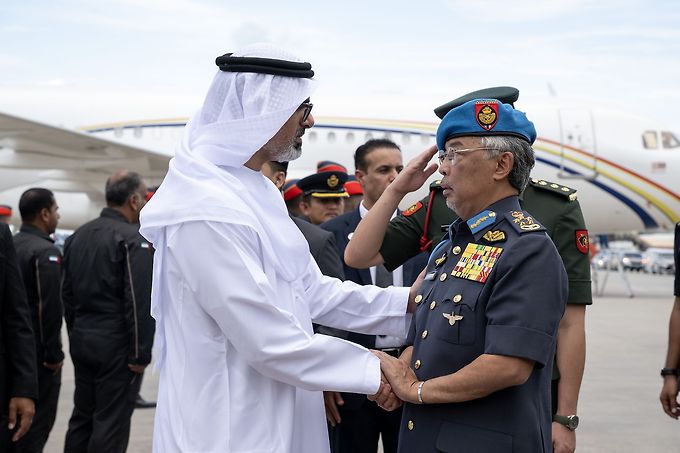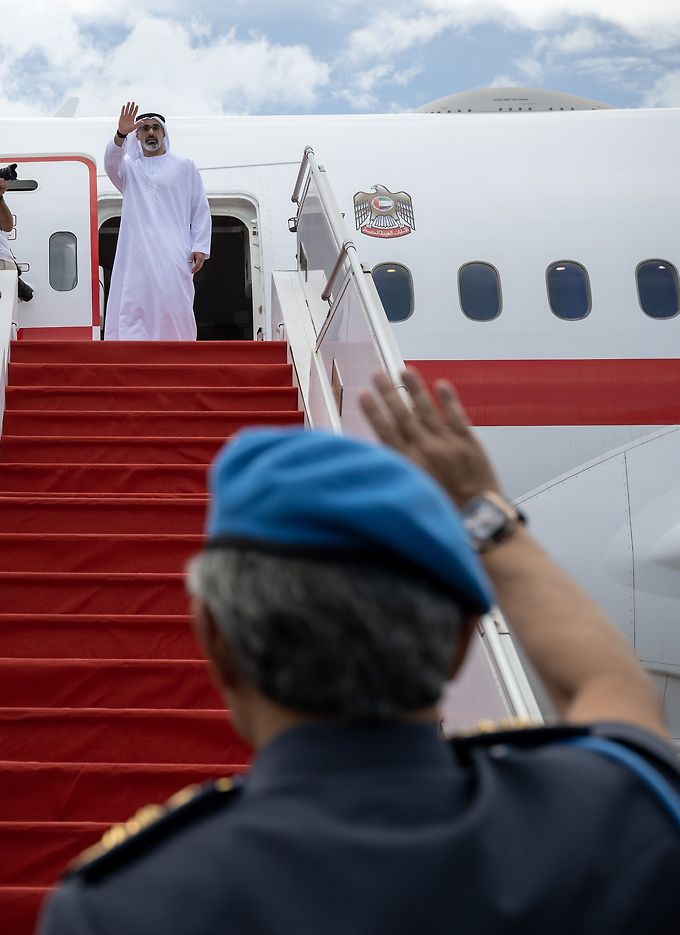 His Highness Sheikh Khaled bin Mohamed bin Zayed Al Nahyan, Crown Prince of Abu Dhabi, has concluded today a four-day official visit to Malaysia.
His Highness was seen off by His Majesty King Al-Sultan Abdullah Sultan Ahmed Shah of Malaysia, and His Royal Highness the Regent of Pahang, Crown Prince Hassanal Ibrahim Alim Shah.
During the visit, the Crown Prince of Abu Dhabi had been received at the Istana Negara Palace in Kuala Lumpur by His Majesty King Al-Sultan Abdullah, where they spoke warmly about the close relations between the two nations. His Majesty had also presented His Highness with two ceremonial medals in appreciation of his role in strengthening the longstanding ties of friendship between the UAE and Malaysia.
His Highness had also met His Excellency Anwar Ibrahim, Prime Minister of Malaysia, and discussed opportunities for cooperation to further deepen bilateral ties and benefit both countries and their people.
During the meeting, they agreed to launch two new academic and scientific research chairs at higher educational institutions in Kuala Lumpur: the Sheikh Zayed chair at the Institute of Strategic and International Studies in Malaysia, to enhance study and research into West Asia and Southeast Asia and support policy-making; and the Sheikha Fatima bint Mubarak chair at the National Defence University of Malaysia to further empower women and girls in the fields of peace and security, and peacekeeping missions at the United Nations.
Additionally, they discussed the establishment of a comprehensive economic partnership agreement (CEPA) between the UAE and Malaysia, in addition to ways to expand economic cooperation between both countries in key areas including clean energy and climate action.
His Highness was accompanied by a delegation that included His Excellency Suhail Mohamed Al Mazrouei, UAE Minister of Energy and Infrastructure; His Excellency Dr. Thani bin Ahmed Al Zeyoudi, UAE Minister of State for Foreign Trade; His Excellency Mohammed Ali Al Shorafa, Chairman of the Department of Municipalities and Transport; and His Excellency Ahmed Jasem Al Zaabi, Chairman of the Abu Dhabi Department of Economic Development.