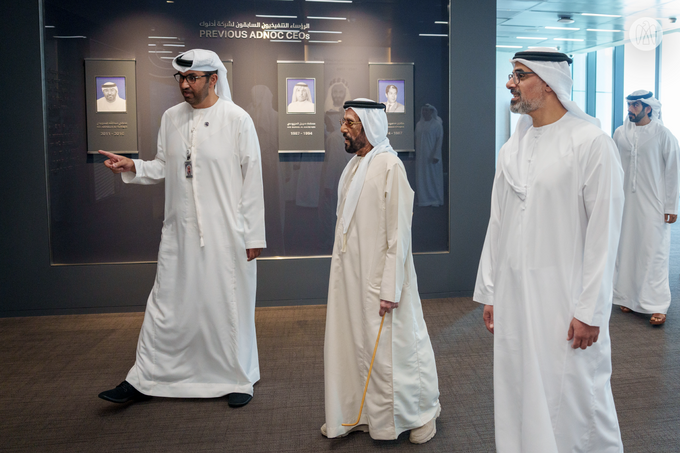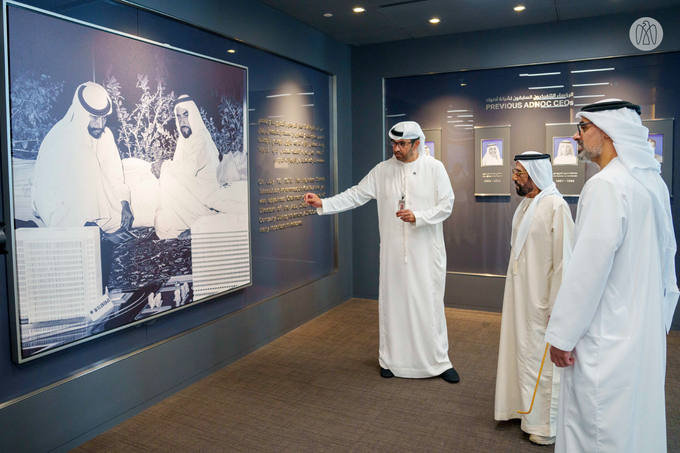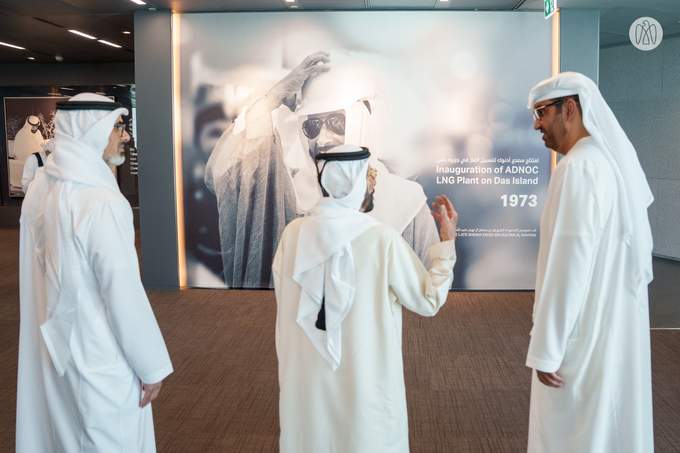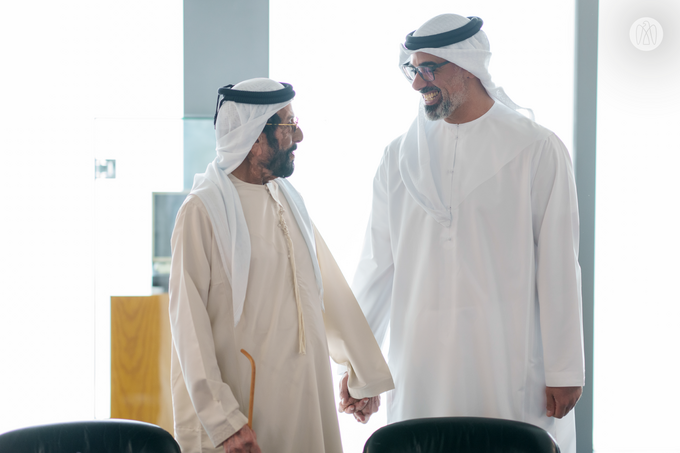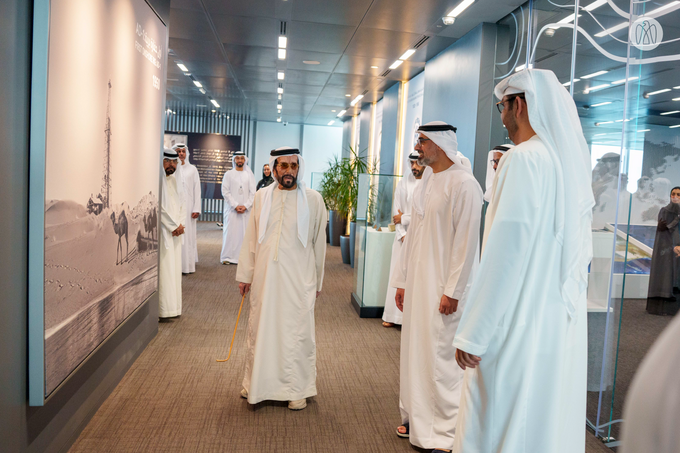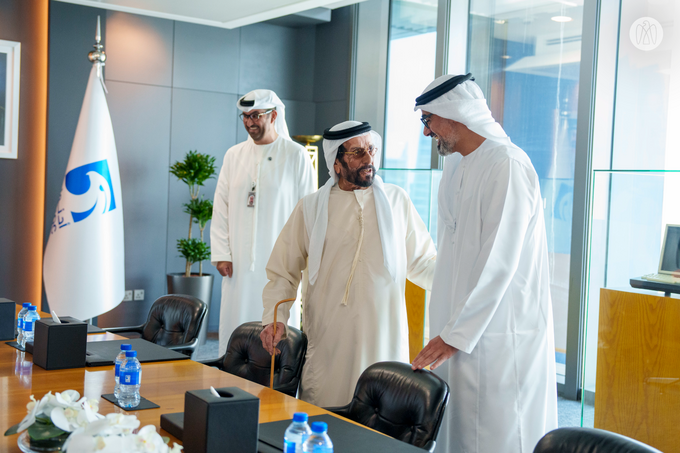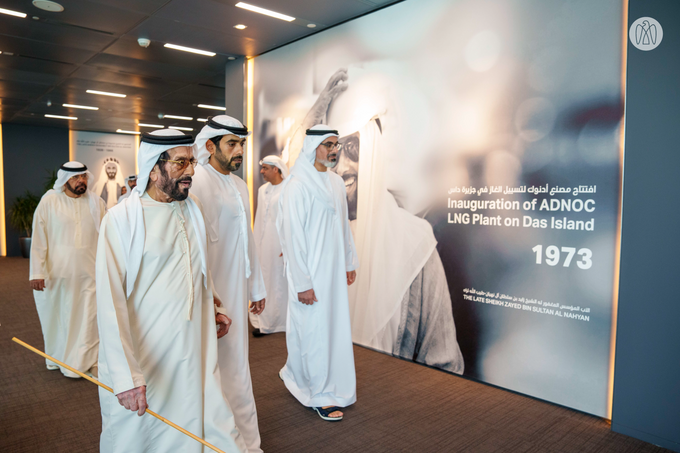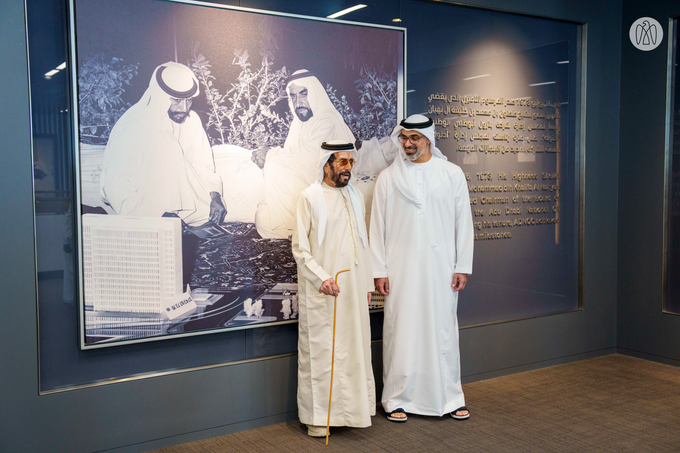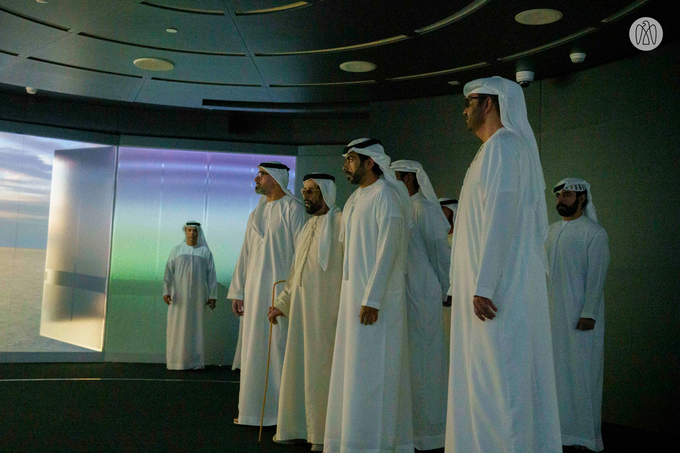 His Highness Sheikh Khaled bin Mohamed bin Zayed Al Nahyan, Crown Prince of Abu Dhabi and Chairman of the Abu Dhabi Executive Council, today received His Highness Sheikh Tahnoon bin Mohammed Al Nahyan, the Ruler's Representative in Al Ain, during a visit to ADNOC's Headquarters to review the company's efforts in advancing the growth of the national economy.
His Highness was accompanied by Sheikh Theyab bin Tahnoon bin Mohammed Al Nahyan, and Sheikh Zayed bin Tahnoon bin Mohammed Al Nahyan. Also attending were His Excellency Dr. Sultan Ahmed Al Jaber, Minister of Industry and Advanced Technology and ADNOC Managing Director and Group CEO, and members of the company's executive management.
During his visit, His Highness Sheikh Tahnoon bin Mohammed Al Nahyan toured the ADNOC Visitor Center, which provides an immersive insight into ADNOC's legacy and achievements, its transformation journey to a lower-carbon future and the role the company plays in enabling the UAE's economic growth. The centre also details how ADNOC's strategic partnerships are enabling the company to unlock and maximise value and responsibly meet global energy demand.
His Highness praised ADNOC's transformation journey as a responsible global energy pioneer, its contribution as an engine of economic growth and diversification in the UAE and its pivotal role in strengthening the country's leadership in the global energy sector, under the directives of the UAE President His Highness Sheikh Mohamed bin Zayed Al Nahyan.
His Highness Sheikh Tahnoon bin Mohammed also commended ADNOC's employees for their role in delivering on its decarbonisation plan, responsibly contributing to meeting growing global energy demand, and establishing its leading global position as a responsible supplier of low-emission energy.
His Highness appreciated the company's focus on the use and application of advanced technologies such as carbon capture and storage in order to reduce emissions, connecting its offshore operations to clean grid power through a project which will reduce its offshore carbon footprint by up to 50%, and delivering on its plan to plant 10 million mangroves by 2030. In 2022, ADNOC planted 200,000 mangrove seeds using drone technology as part of its plan to plant 2.5 million mangrove seeds over a period of three years.
The visit to ADNOC reflects His Highness's continued interest in the success of the company he played a key role in shaping. His Highness was appointed Chairman of the ADNOC Board of Directors in 1973 and was instrumental in setting the strategic direction of the company and laying the foundations for its growth. Under the chairmanship of His Highness, ADNOC set up its operating companies and rolled out industry best practices and guidelines across the oil and gas sector to ensure safe and sustainable operations across. His stewardship of ADNOC, under the guidance of the UAE leadership, set the company on the path to its current position in the top tier of lowest carbon intensity oil and gas producers in the world.
His Highness also served as the Chairman of the Board of Directors of ADNOC Distribution in 1987 and was appointed as a member of Abu Dhabi's Supreme Petroleum Council in 1988. He played an important role in formulating the UAE's oil policy in the 1980s.
His Highness Sheikh Khaled bin Mohamed bin Zayed Al Nahyan praised the work of His Highness Sheikh Tahnoon bin Mohammed Al Nahyan for his role in the founding of ADNOC and in setting the company's vision and strategic goals, which enabled the company's significant contributions to the UAE's economic growth and development.
H.E. Dr. Sultan Ahmed Al Jaber said: "We were honored to welcome His Highness Sheikh Tahnoon bin Mohammed Al Nahyan to ADNOC. The visit highlights the UAE leadership's unwavering support for and wise guidance to ADNOC and its employees, which continues to be instrumental to our progress and transformation journey over the past few years. In line with the leadership's vision and directives, we continue to future-proof ADNOC, reinforce sustainability in all aspects of our business and bolster our position as a reliable and responsible global provider of lower-carbon energy as well as a key contributor to the UAE's economic and social development."
ADNOC has placed sustainability at the heart of its long-term strategy. The company recently accelerated its decarbonisation plan to bring forward its net zero ambition to 2045, from its previous target of 2050 as it continues on its transformational journey to a lower carbon future. The company has made an initial allocation of $15 billion (AED55 billion) towards low carbon solutions to expedite the implementation of its key decarbonisation initiatives, including carbon capture and storage, electrification, energy efficiency and nature-based solutions. Furthermore, the company has been playing a pivotal role in catalysing economic and social development in the UAE for more than 50 years.