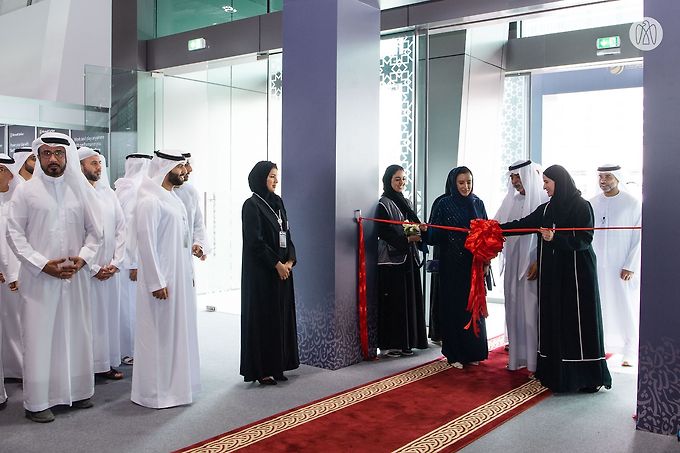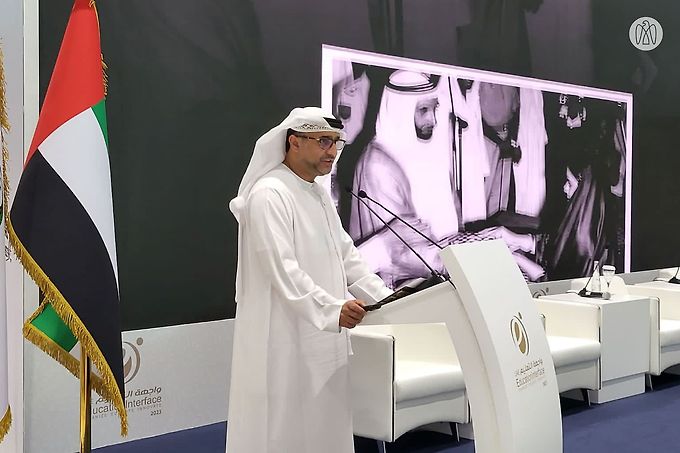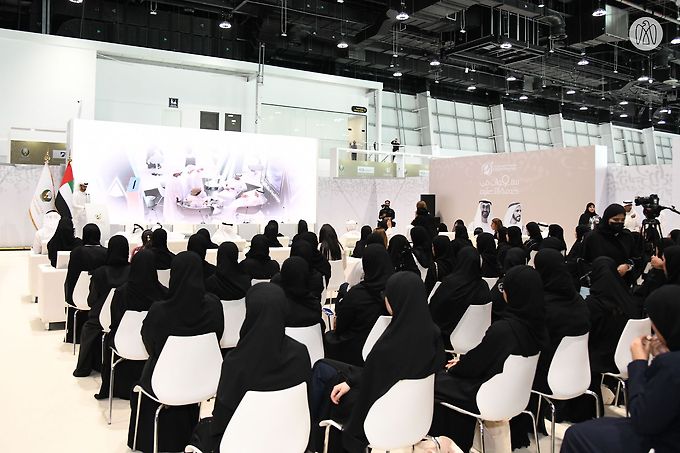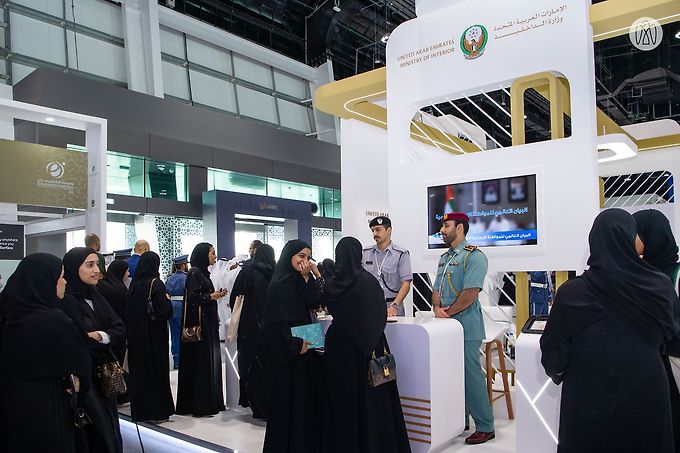 Under the patronage of Lt. Gen. His Highness Sheikh Saif bin Zayed Al Nahyan, Deputy Prime Minister and Minister of Interior, His Highness Sheikh Nahyan bin Mubarak Al Nahyan, Minster of Tolerance and Coexistence, inaugurated the ninth edition of the Education Interface Exhibition and the Middle East Youth Conference 2023 under the slogan, Nine Years in the Service of Education.
The launch took place at Marina Hall at Abu Dhabi National Exhibition Centre with large local and international attendance from educational and academic institutions. The event will run until 17 May 2023 and will present future visions for the labour market and future professions and provide greater opportunities for students to choose their academic majors.
The event was attended by HE Zaki Anwar Nusseibeh, Cultural Advisor to the UAE President, and Chancellor of the United Arab Emirates University; HE Sarah Bint Yousif Al Amiri, Minister of State for Public Education and Advanced Technology; HE Sarah Awad Issa Musallam, Minister of State for Early Education, Chairwoman of the Federal Authority for Early Education, Chairwoman of Abu Dhabi Department of Education and Knowledge; and a number of government officials and representatives of educational institutions and organizations.
The exhibition is a platform that brings together local universities, academic institutions, and representatives of major international universities, during which they present perceptions, visions, and specialisations based on anticipating future professions, keeping pace with the needs of the labour market and standing on its directions, and presenting scientific and professional specialisations that meet its future needs.
On this occasion, His Excellency Sheikh Nahyan bin Mubarak Al Nahyan stressed that the UAE, with the vision of its leadership, presents a unique model for education based on foreseeing the future and based on tomorrow's sciences, artificial intelligence, and modern technologies and applications, in a way that contributes to enhancing the comprehensive and sustainable development process.
His Excellency expressed his pride in opening this pioneering educational event, which enhances the country's efforts to empower students, provide opportunities to explore future skills and specializations, and build their academic path in a way that serves the country's directions and vision for a brighter future
The exhibition aims to build sustainable relationships in the field of education between all parties to the educational process, and to provide a selection of leading universities to introduce students to their academic programmes, standards and conditions for admission and registration.
It also bridges the gap between the outputs of higher education and the requirements of the labour market, and introduces students and their parents to the best academic practices in Academic institutions, and giving students and their parents the opportunity to discuss their study options and educational aspirations.
The exhibition witnessed extensive visits on its first day, as its attendance exceeded 7,200 students, who interacted with the specialised platforms and watched part of the discussions included in the exhibition within its activities.
On the sidelines of the conference, discussion sessions will be held dealing with the most important future trends in the fields of education and academic disciplines, the sustainability of education, development and future skills, and how tomorrow's youth will build their orientations towards a more quality and useful education that plays its hoped-for role in building a bright future.
It includes a group of official speakers representing ministries, agencies, universities and higher education institutions. They also discuss strategic axes related to basic education and higher education issues.