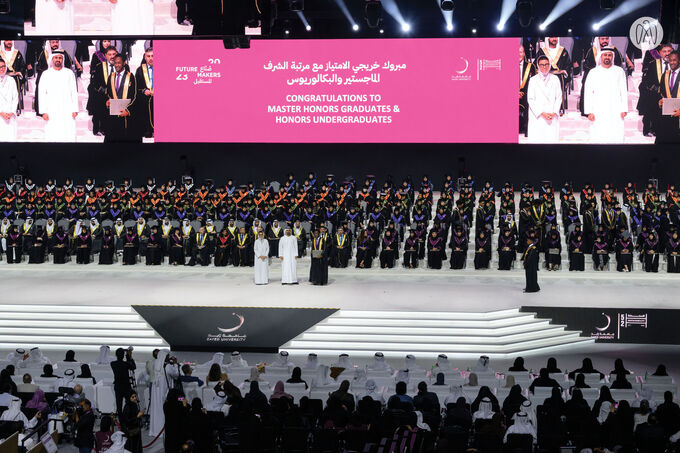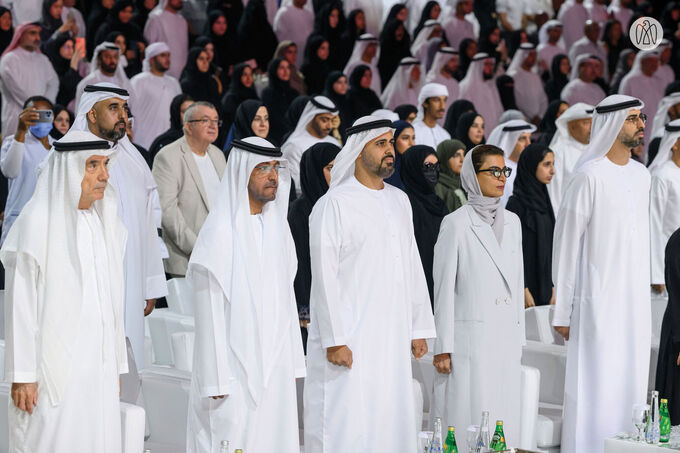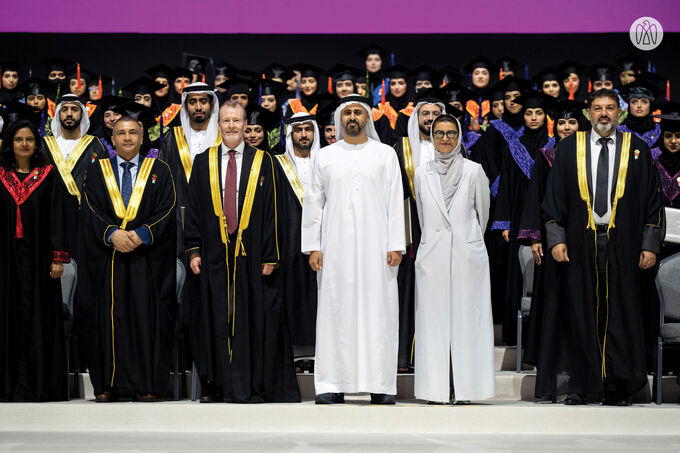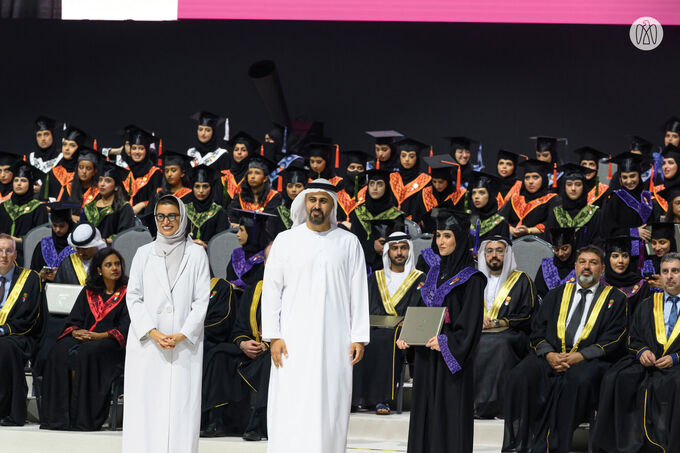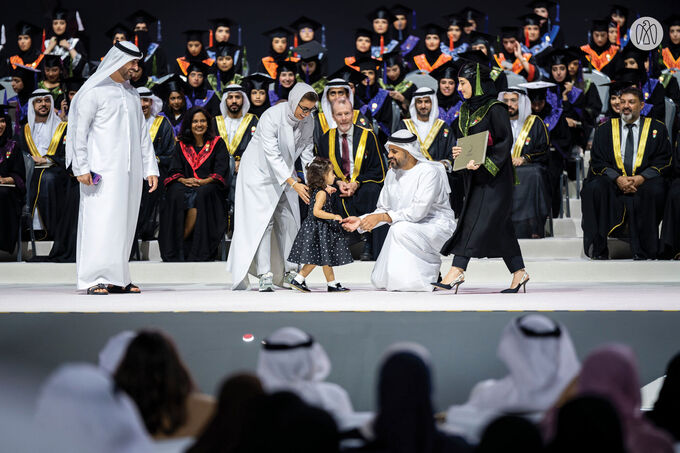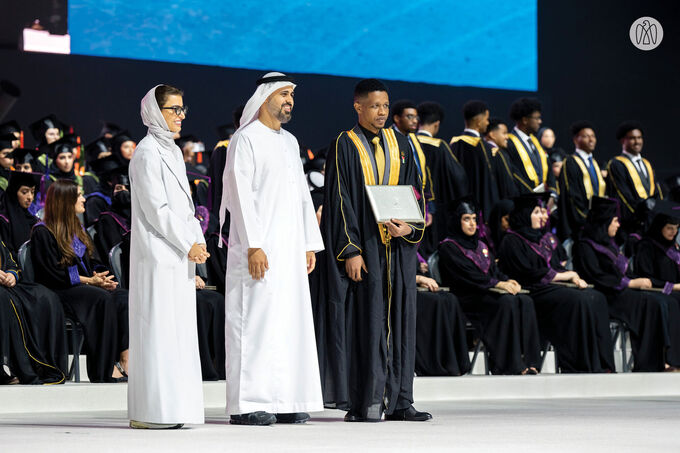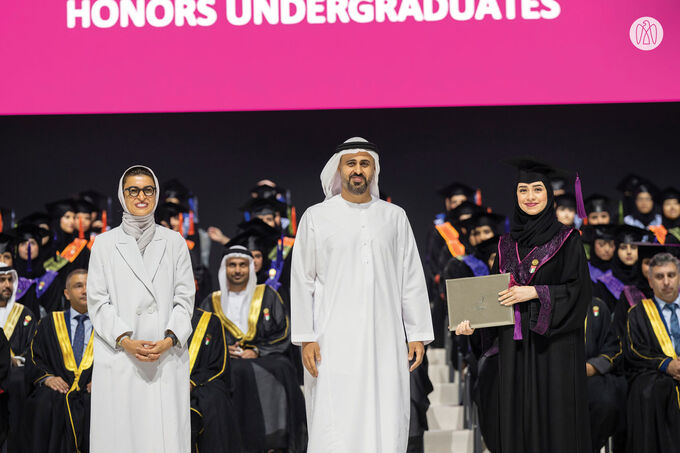 Under the patronage and in the presence of His Highness Sheikh Theyab bin Mohamed bin Zayed Al Nahyan, Zayed University has held a graduation ceremony for the class of 2023, the Future Makers cohort, in the presence of Her Excellency Noura bint Mohammed Al Kaabi, Minister of State and President of Zayed University, His Excellency Omar Al Olama, Minister of State for Artificial Intelligence, Digital Economy, and Remote Work Applications, and other VIP guests at Abu Dhabi National Exhibition Centre (ADNEC).
The total number of students celebrated across two ceremonies held on 20-21 June 2023, were 2,128 students, consisting of the 21st cohort of female undergraduates, 11th cohort of male undergraduates and selected cohorts of master's graduates from seven Zayed University colleges.
In an address to the audience, His Excellency Omar Al Olama emphasised the importance of innovation and adaptability in a rapidly evolving world.
His Excellency Omar Al Olama said: "At a time when we are witnessing rapid technological advancements in areas such as AI, your education at Zayed University has equipped you with the knowledge and skills necessary to navigate the challenges and opportunities of the digital era. I would encourage all graduates to embrace innovation, leverage emerging technologies, and become catalysts of positive change in your chosen fields."
Her Excellency Noura bint Mohammed Al Kaabi extended her warmest congratulations to the graduates on their outstanding achievements, underscoring the significance of their role in shaping the future.
Her Excellency Noura bint Mohammed Al Kaabi said: "We are proud of you, as you are the Future Makers for the next 50 years, following in the footsteps of the Founding Father, Sheikh Zayed bin Sultan Al Nahyan, may his soul rest in peace, and are working towards the progress and advancement of the United Arab Emirates.
"We are confident that Zayed University's role has surpassed the stage of experiencing the challenges and training the workforce that society needs. Zayed University is destined to be a beacon of enlightenment and growth for the UAE and the entire Arab world as a whole leading community in scientific research and innovation."
Emirati Astronaut Sultan Al Neyadi addressed the graduates in a video from the International Space Station with words of inspiration.
Sultan Al Neyadi said: "Congratulations on reaching this very special moment, it's a truly blessed occasion and I wish you all the best in your future professional and academic endeavours.
"As you can see, I am currently in space, what has made me reach here today is education. Shield yourself with education and skills with the things that will benefit you and make you happy, as well as your family, nation and the leadership that believes in you and provides everything for you to excel. Strive to achieve your personal goals, and in doing so, contribute to the broader goals of your nation."
The graduation ceremonies exemplified Zayed University's dedication to nurturing talent, promoting diversity and fostering a vibrant intellectual community, which aligns with the national goals of UAE Centennial 2071. The university takes immense pride in the accomplishments of its graduates and their preparedness to embrace the challenges and opportunities that lie ahead.
Zayed University extends its heartfelt congratulations to the graduating class of 2023 and wishes them continued success in their future endeavours. The university remains steadfast in its commitment to providing quality education, fostering innovation and shaping the leaders of tomorrow.