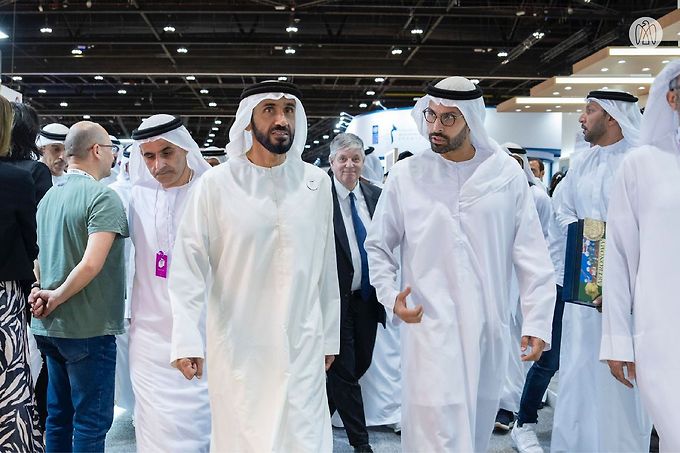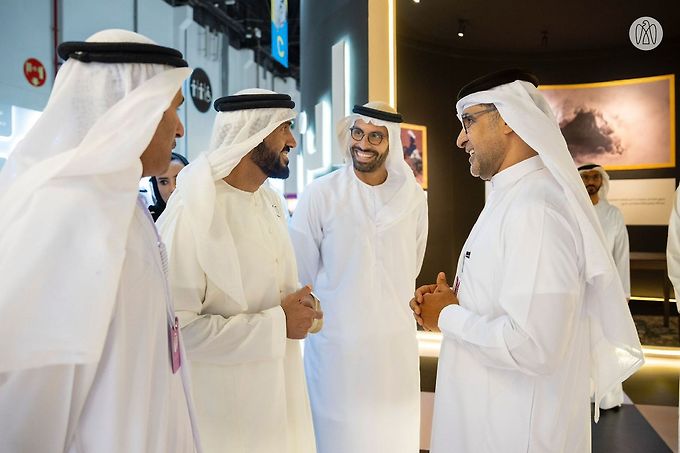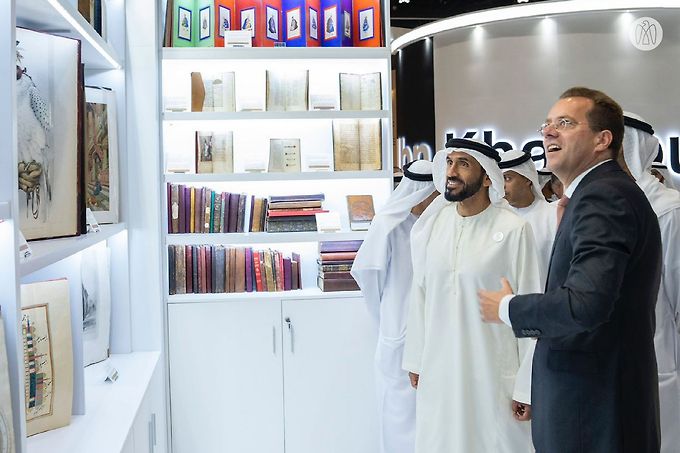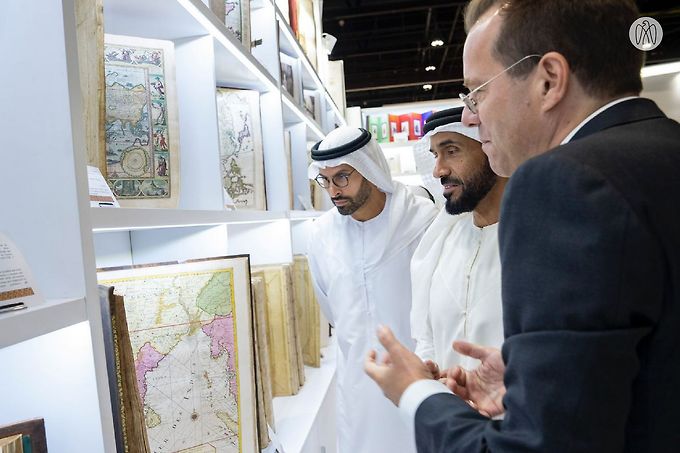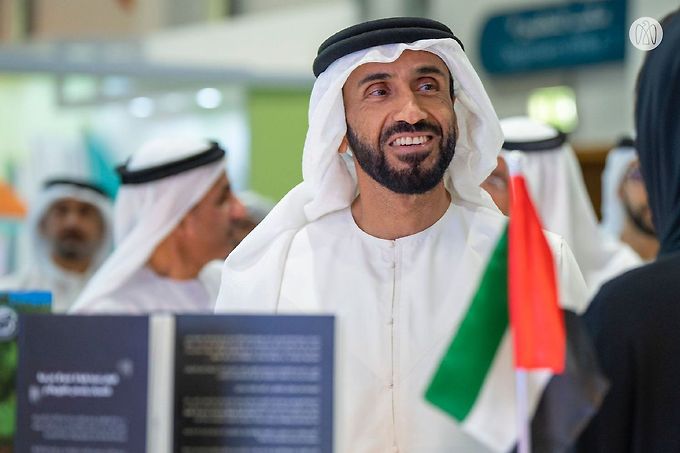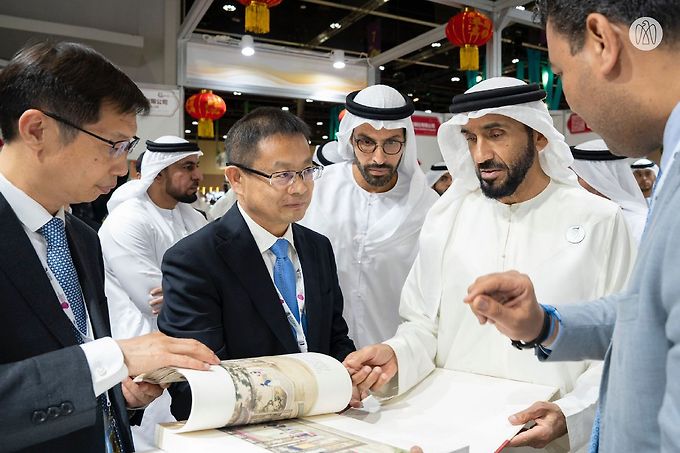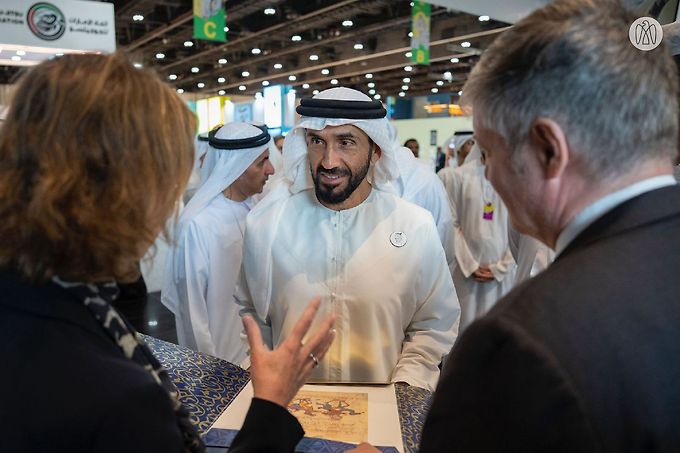 Under the patronage of His Highness Sheikh Mohamed bin Zayed Al Nahyan, President of the UAE, His Highness Sheikh Nahyan bin Zayed Al Nahyan, Chairman of the Board of Trustees of the Zayed Bin Sultan Al Nahyan Charitable and Humanitarian Foundation (Zayed CHF), and Chairman of the Abu Dhabi Sports Council, has inaugurated the 32nd Abu Dhabi International Book Fair (ADIBF).
His Highness Sheikh Nahyan bin Zayed Al Nahyan was accompanied by His Excellency Dr Ahmad Belhoul Al Falasi, UAE Minister of Education; His Excellency Staff Major General Pilot Faris Khalaf Al Mazrouei, Commander-in- Chief of Abu Dhabi Police; Her Excellency Sara Awadh Musallam, Chairperson of Abu Dhabi Department of Education and Knowledge; His Excellency Mohammad Al Murr, Chairman of Mohammed Bin Rashid Al Maktoum Library; His Excellency Mohamed Al Mubarak, Chairman of the Department of Culture and Tourism – Abu Dhabi; HE Saood Abdulaziz Al Hosani, Undersecretary of the Department of Culture and Tourism – Abu Dhabi; and His Excellency Dr Ali bin Tamim, Chairman of Abu Dhabi Arabic Language Centre.
Also in attendance were His Excellency Mohamed Saleh Al Geziry, Director General Tourism Sector at Department of Culture and Tourism – Abu Dhabi; His Excellency Saeed Al Tunaiji, Executive Director of Abu Dhabi Arabic Language Centre; and Nouf Al Bushlaibi, Executive Director of Strategic Marketing & Communications Sector, Department of Culture and Tourism – Abu Dhabi.
Organised by Abu Dhabi Arabic Language Centre, the event is taking place at Abu Dhabi National Exhibition Centre (ADNEC) until 28 May 2023, bringing together authors, thought leaders and publishers from around the world to showcase the region's literary and cultural heritage, while strengthening ties between Arab and international publishing communities.
During the visit, His Highness Sheikh Nahyan bin Zayed Al Nahyan toured several exhibitor stands including the pavilion of the Republic of Türkiye, which is this year's country guest of honour at the event. His Highness also met with publishers who are promoting the Arabic language around the world through various cultural initiatives.
ADIBF will host events across five cultural sites, in addition to ADNEC, including the Cultural Foundation, Manarat Al Saadiyat, Sorbonne University Abu Dhabi, New York University Abu Dhabi and the Logos Hope, the world's largest floating book fair, which is currently anchored in Mina Zayed in conjunction with the fair's activities.
In line with 2023 being the Year of Sustainability in the UAE, this year's edition of ADIBF will also focus on sustainability. Visitors will able to attend a range of events and talks that will highlight the best global sustainability practices within the publishing industry, as well as discussions around the broader topics of climate change and food security.
The fair is also celebrating the 14th-century Arab philosopher Ibn Khaldun, the founder of sociology, as this year's personality of the year through a series of historical, philosophical and literary discussions that highlight his work and legacy.
The 32nd edition of ADIBF will be the largest in the fair's history featuring more than 2,000 cultural, literary, educational and artistic events. It will also host more than 1,300 participants from more than 85 countries, providing visitors access to more than 500,000 book titles.
ADIBF is one of the leading literary events in the Arab world, offering a platform for global dialogue and featuring talks by distinguished Arab and international speakers, including renowned authors, artists, academics and digital content creators. The fair will cater to a diverse audience, ranging from professionals to consumers and families, with five primary programme types: cultural, creative arts, children and youth, and specialised professional and partner programmes.