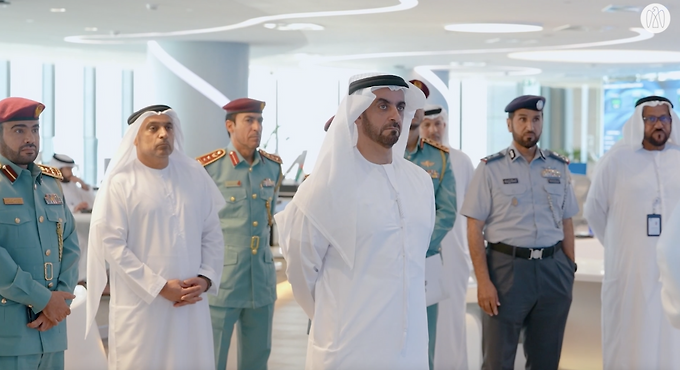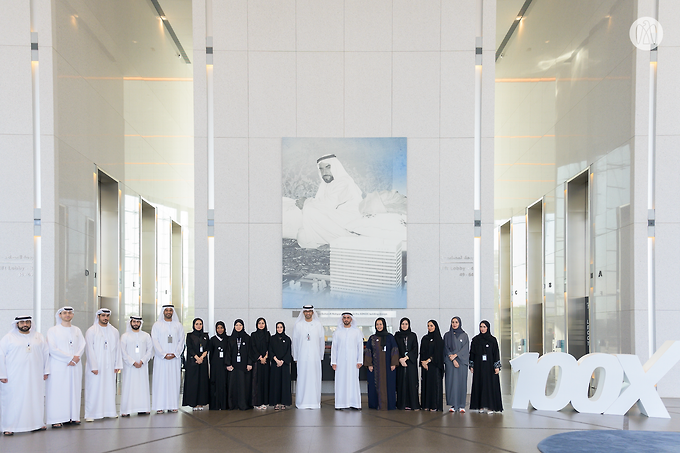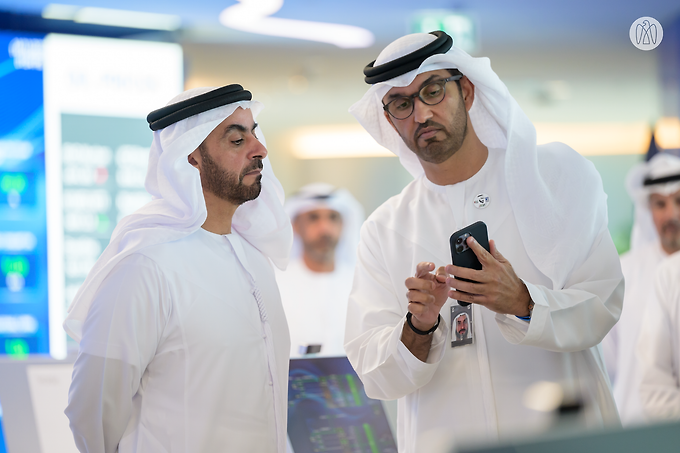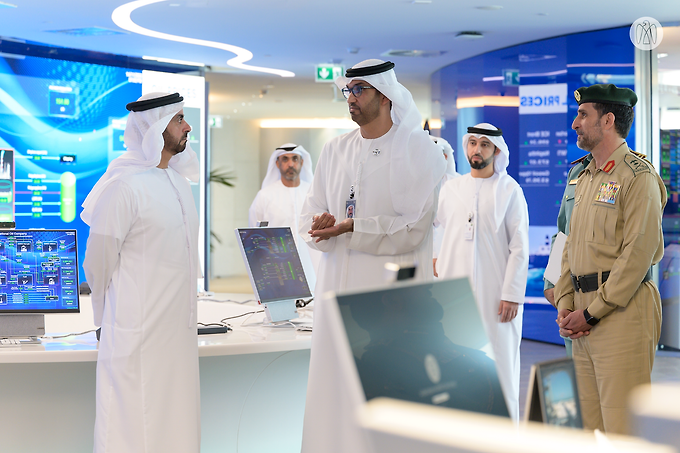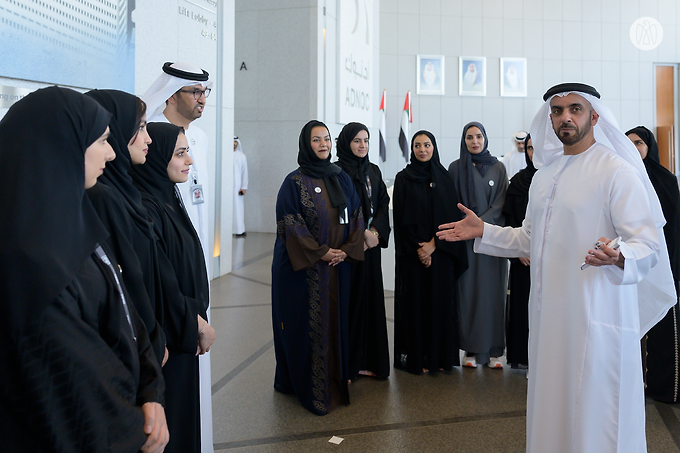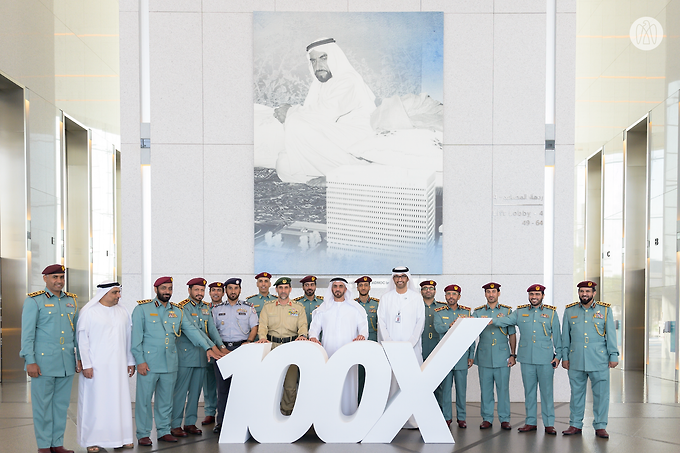 His Highness Sheikh Saif bin Zayed Al Nahyan, Deputy Prime Minister and Minister of Interior, has visited Abu Dhabi National Oil Company (ADNOC), where he was welcomed by His Excellency Dr Sultan bin Ahmed Al Jaber, Minister of Industry and Advanced Technology, Managing Director and Group CEO of ADNOC, along with other senior ADNOC executives.
During his visit, His Highness inspected ADNOC's Panorama Digital Command Center, which plays a major role in upholding efficiency, performance and value, leveraging AI apps, big data and other advanced technologies. Since its inauguration in 2017, the centre has assisted ADNOC in generating billions of dirhams worth of business.
During the visit, His Highness listened to an explanation of the progress made in the X100 Acceleration Programme, which represents the new phase of the qualitative leap implemented by ADNOC to prepare for the future. His Highness also visited the Operations and Control Room, and the Crisis Management Center at ADNOC, and surveyed their role in enhancing readiness and preparedness according to the latest advanced technical systems used by ADNOC.
His Highness commended ADNOC for its central role as a main driver for economic growth and diversity in the UAE, and its major contribution in strengthening UAE leadership in the regional and global energy industry, under the directives of His Highness Sheikh Mohamed bin Zayed Al Nahyan, President of the UAE.
His Highness also praised ADNOC staff for their efforts and crucial role in fulfilling ADNOC's strategies and goals, fostering its global status as leader in the energy industry.
His Excellency Dr Sultan bin Ahmed Al Jaber said: "We were honored by the visit of His Highness Sheikh Saif bin Zayed Al Nahyan, Deputy Prime Minister and Minister of Interior, to ADNOC today, reflecting the visionary leadership's ongoing interest and support to the company and its staff, which has always impacted ADNOC's progress and growth in the past years. Thanks to this support, we are still implementing our strategic plans, expediting our work to meet the changes in the energy industry, thus promoting UAE and ADNOC's status as a reliable supplier of affordable and low-emission energy sources."
Panorama Digital Command Center, located at ADNOC HQ, contributes to immediate information and data gathering from different companies of ADNOC Group, using smart analytical models, AI and big data to generate recommendations that inform immediate decisions on operational tasks. Panorama can display 250,000 immediate data points from all operational sites, thus ensuring full data complementarity among onshore and offshore facilities.
The Panorama Digital Command Center is the only platform of its kind in the oil and gas industry worldwide, offering a unique feature of complementarity, speed, and easy access to ADNOC's operations data, being able to determine and calculate the final value of all operation plans for a time period of one day up to more than 30 days.
The Panorama Digital Command Center is listed among ADNOC's several digital transformation initiatives, aiming at adopting cutting-edge technologies throughout its different fields and operation phases in the oil and gas industry. Other digital initiatives include the Thamama Subsurface Collaboration Center, which uses smart analysis, AI platforms, rock shape and pattern recognition technologies, predictive maintenance technologies, and blockchain hydrocarbon calculation, among others, to uphold operations in subterranean oil reservoirs, inform decisions, improve field development plans and shorten drilling time.