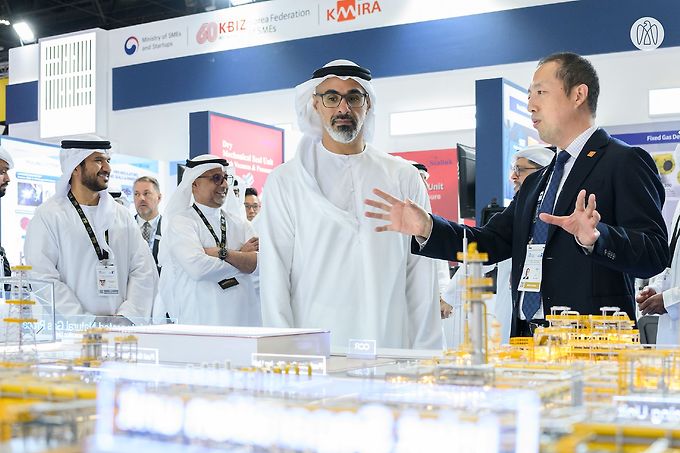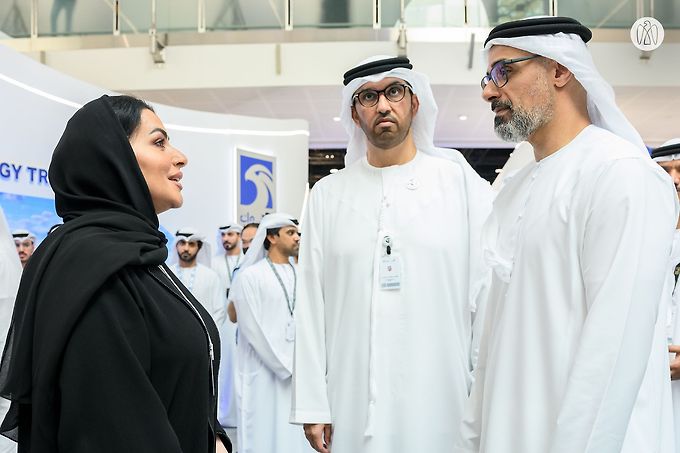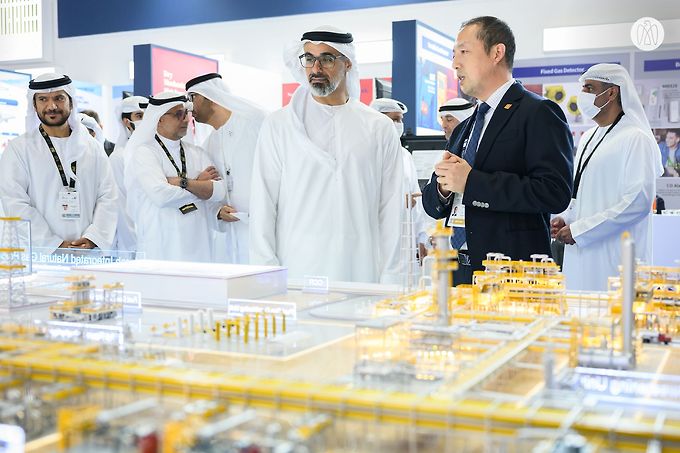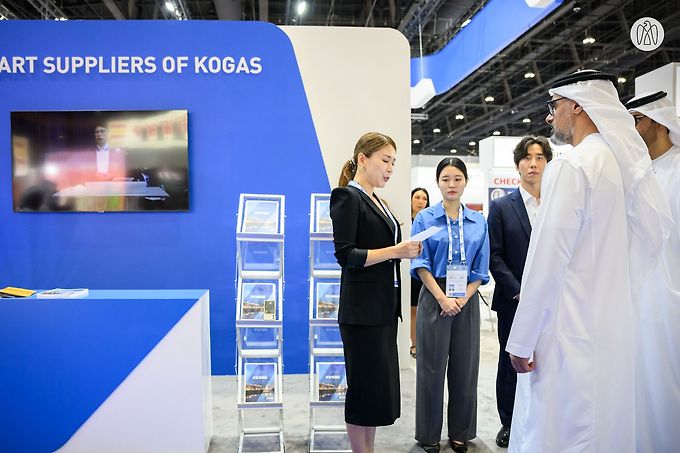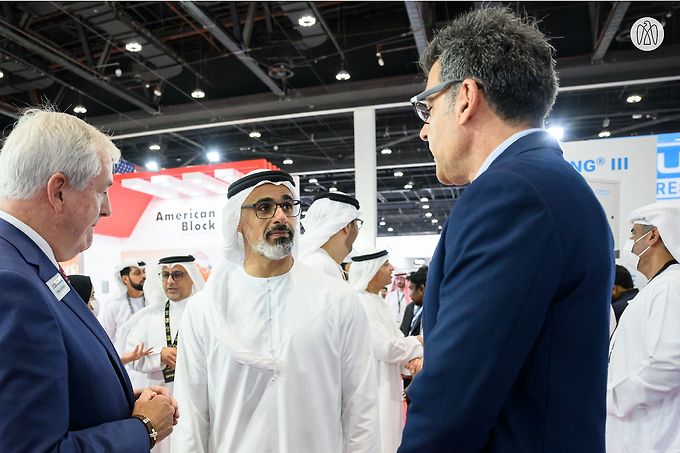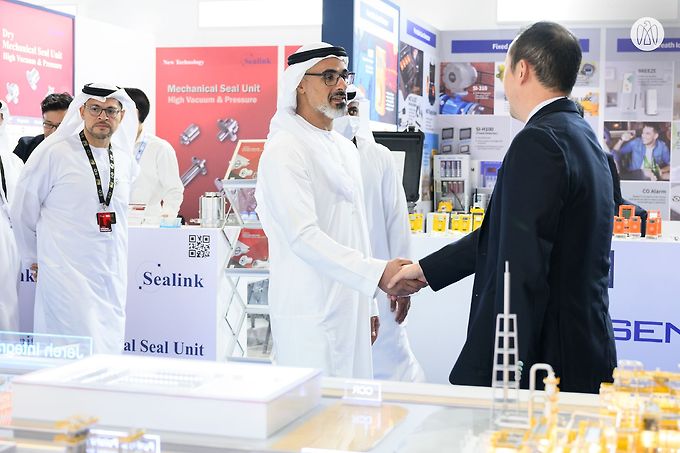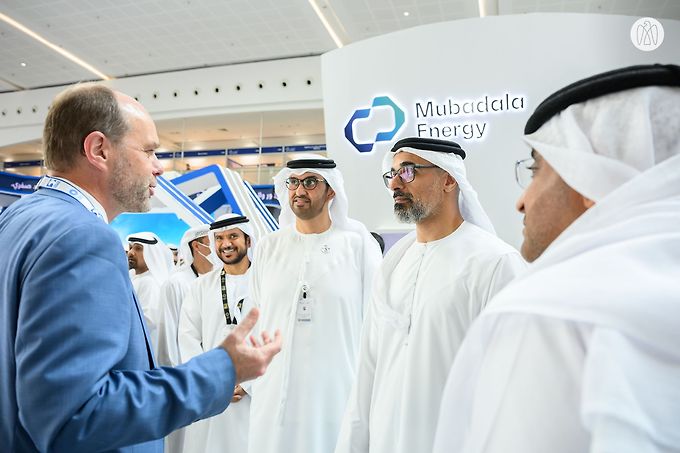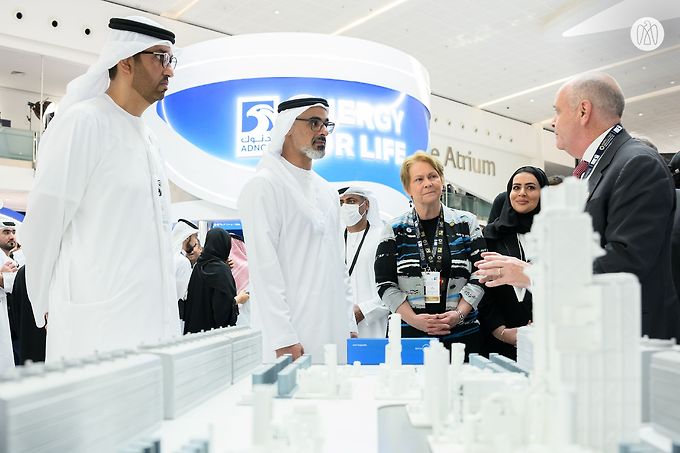 His Highness Sheikh Khaled bin Mohamed bin Zayed Al Nahyan, member of the Abu Dhabi Executive Council, Chairman of the Abu Dhabi Executive Office, and Chairman of the Executive Committee of ADNOC's Board of Directors, today toured the 38th edition of the Abu Dhabi International Petroleum Exhibition and Conference (ADIPEC), which is being held under the patronage of the UAE President, His Highness Sheikh Mohamed bin Zayed Al Nahyan, at Abu Dhabi National Exhibition Center (ADNEC).
His Highness Sheikh Khaled bin Mohamed bin Zayed attended the opening ceremony and toured the exibition, where he met leaders from the global energy sector and was briefed on the latest innovations and high-potential technologies helping to reduce emissions, support global energy security, and unlock opportunities in the rapidly evolving energy landscape.
His Highness began his tour by visiting ADNOC's pavilion, where he praised the company's efforts to further strengthen the UAE and Abu Dhabi's position as a responsible and reliable supplier of low-emission energy, as well as its siginificant contribution to supporting the UAE Net Zero 2050 strategic initiative by developing sustainable energy solutions.
His Highness also toured the pavilions of a number of countries and international energy companies, including Kogas from Korea, Gazprom from Russia, Aramco from Saudi Arabia, Oxy and Helmerich & Payne (H&P) from the US, and Shell from the UK. In addition, His Highness visited the pavilions of Mubadala Energy and TAQA, where His Highness was briefed on the exhibitors' high-impact technologies and projects.
His Highness was accompanied by His Excellency Dr. Sultan Ahmed Al Jaber, UAE Minister of Industry and Advanced Technology and Managing Director and Group CEO of ADNOC; His Excellency Yousef Al Otaiba, UAE Ambassador to the USA; His Excellency Jassem Mohamed Bu Ataba Alzaabi, Chairman of the Department of Finance; His Excellency Mohammed Ali Al Shorafa Al Hammadi, Chairman of the Department of Economic Development; and His Excellency Eng. Awaidha Murshed Al Marar, Chairman of the Department of Energy.
Among the world's largest and most influential events for the global oil and gas industry, ADIPEC brings together ministers, decision makers, leaders and experts to build partnerships and to discuss the future of the energy sector, as well as current challenges.
This year's edition is being hosted under the theme 'The Future of Energy: Sustainable, Affordable, Secure', and will feature more than 350 dialogue sessions involving more than 1,200 speakers to support efforts to transform the energy sector and enhance sustainability through the production of low-emission energy sources.