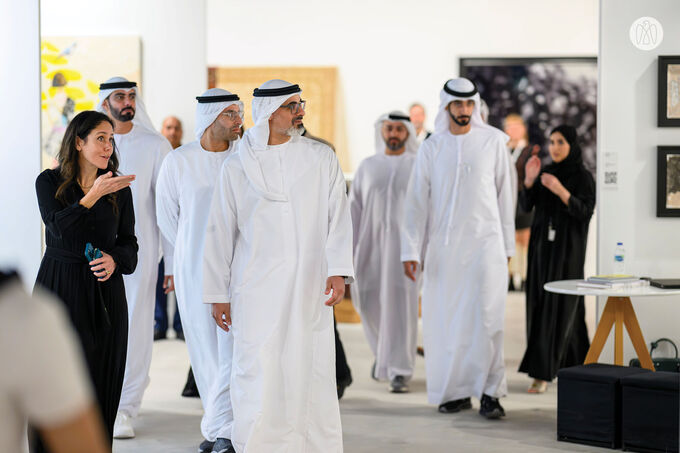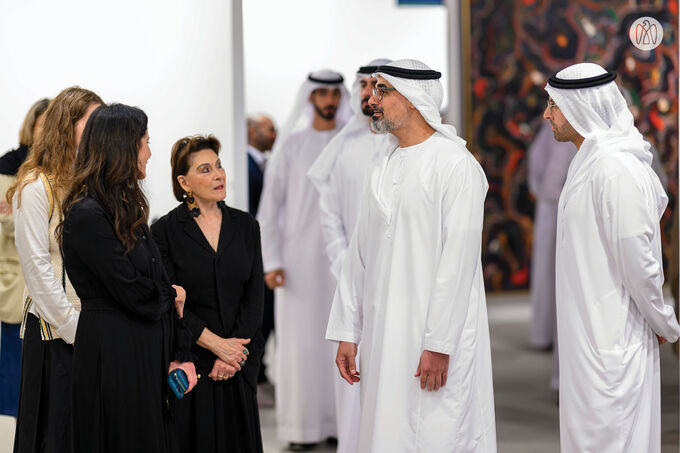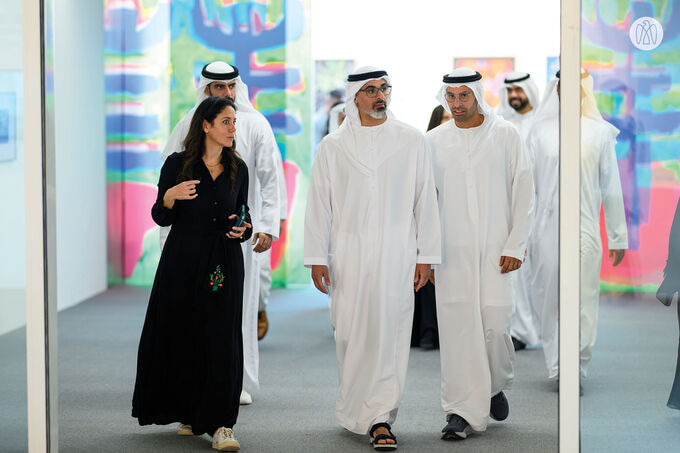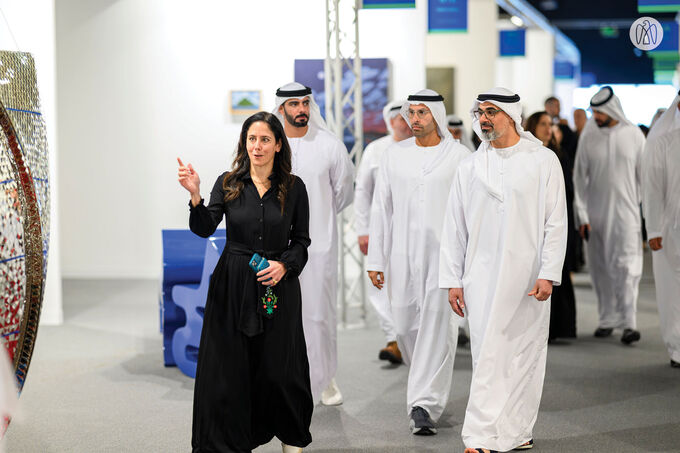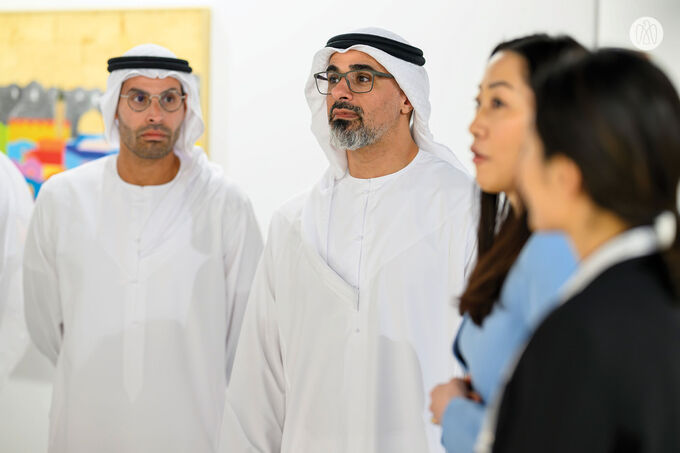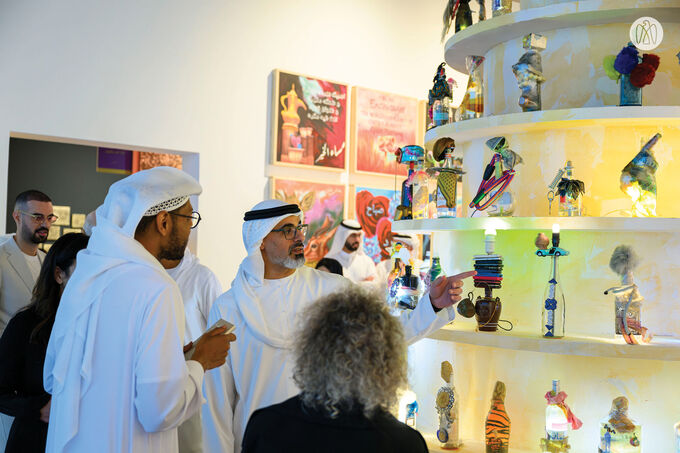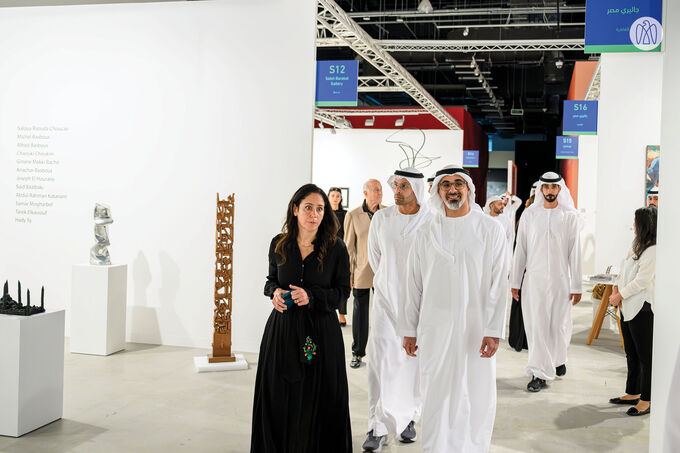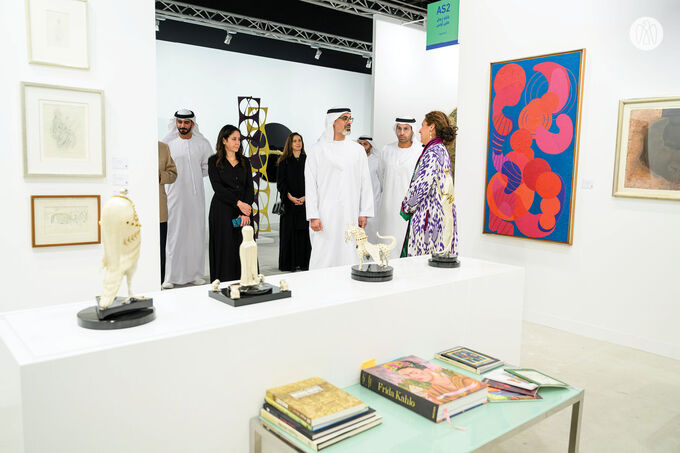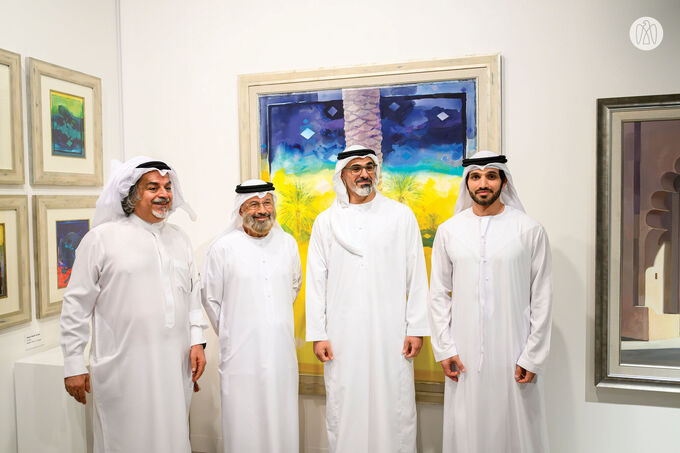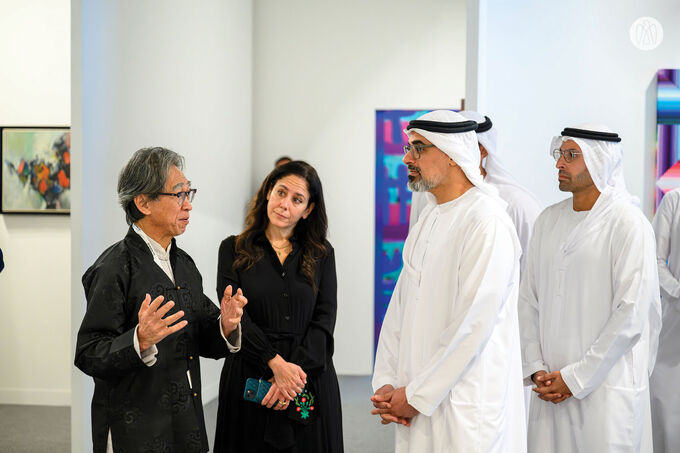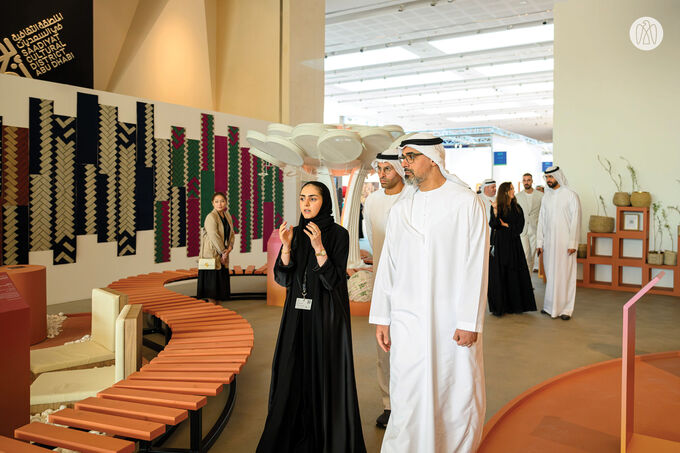 His Highness Sheikh Khaled bin Mohamed bin Zayed Al Nahyan, Crown Prince of Abu Dhabi and Chairman of the Abu Dhabi Executive Council, has inaugurated the 15th edition of Abu Dhabi Art, organised by the Department of Culture and Tourism – Abu Dhabi.
During the visit, His Highness toured the galleries and met with renowned artists Nujoom Al Ghanem, Mohamed Ahmed Ibrahim and Hashel Al Lamki. His Highness also met with curators including Dyala Nusseibeh, Director of Abu Dhabi Art, as well as guest curators who are exhbiting works from around the world.
His Highness highlighted how the expansion of Abu Dhabi Art, as it reaches its 15th year, has grown in step with Abu Dhabi's rich cultural scene and helped establish the emirate as a leading hub for art and culture. His Highness emphasised how the cultural ecosytem in Abu Dhabi combines a deep appreciation of global contemporary culture with an ongoing commitment to celebrating and preserving the UAE's cultural heritage. His Highness also highlighted the importance of the fair in providing opportunities to engage in cross-cultural dialogue, and for providing a platform for emerging artists and inspiring new generations to explore, refine and promote their talents.
His Highness was accompanied by His Excellency Mohamed Khalifa Al Mubarak, Chairman of DCT-Abu Dhabi; His Excellency Saif Saeed Ghobash, Secretary General of the Executive Council; and His Excellency Saood Abdulaziz Al Hosani, Undersecretary of DCT – Abu Dhabi.
His Excellency Mohamed Khalifa Al Mubarak said, "In the space of 15 years, Abu Dhabi Art has set a benchmark for the regional cultural landscape and has been fundamental in positioning the emirate as a leading global centre for creativity and artistic expression. Year after year, it has presented innovative and thought-provoking exhibitions featuring both local and international artists, providing opportunities for emerging artists from the UAE and region to thrive. With both its annual Fair and year-round programme, Abu Dhabi Art is a keystone of our efforts to nurture and accelerate the culture and creative industries and grow the sector into becoming a main driver for the emirate's economy."
Since 2007, Abu Dhabi Art has promoted local artists and strengthened the UAE's cultural and creative industries and has played a vital role as a cultural platform for West Asia, North Africa and South Asia. The 15th edition of the event, which is held under His Highness' patronage, is taking place at Manarat Al Saadiyat until 26 November, with the participation of 90 galleries from 31 countries. The fair welcomes 54 returning galleries, and 36 new galleries from countries including Georgia, Mexico, Brazil, Singapore, and Chile, making it the largest and most diverse edition of the fair to date.