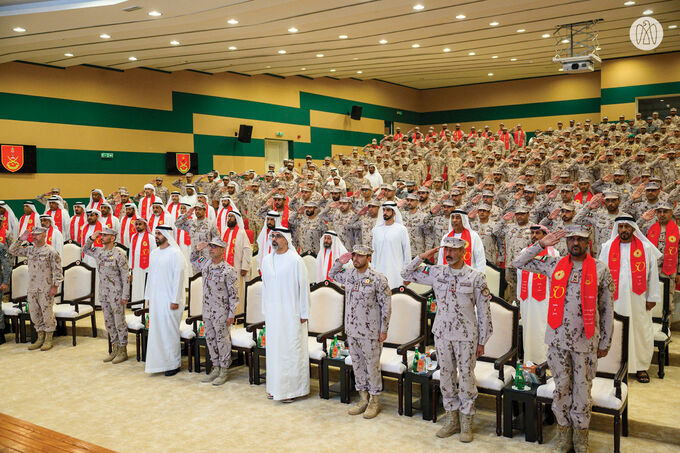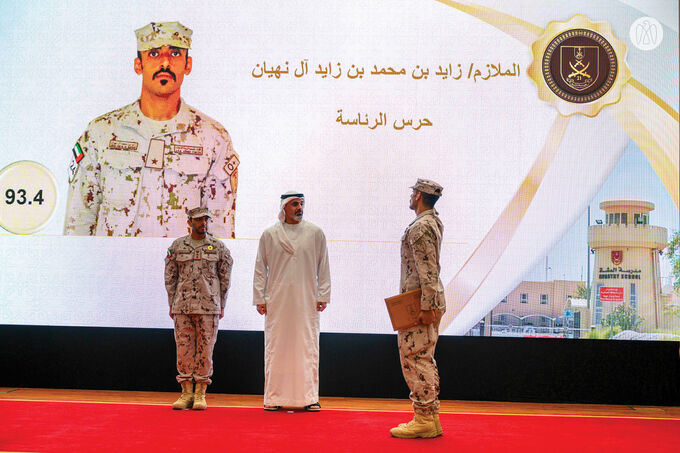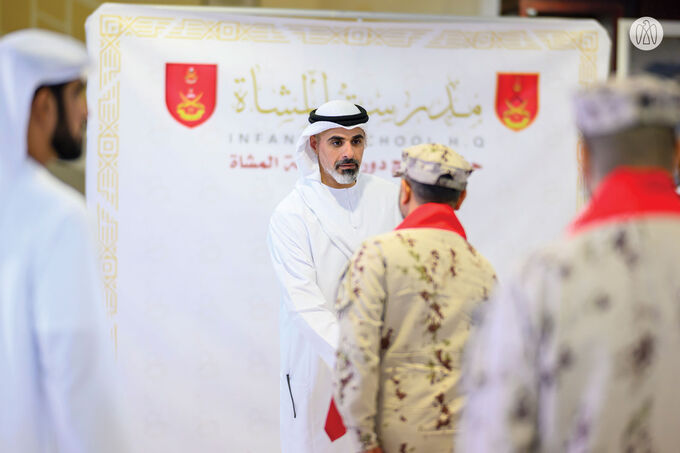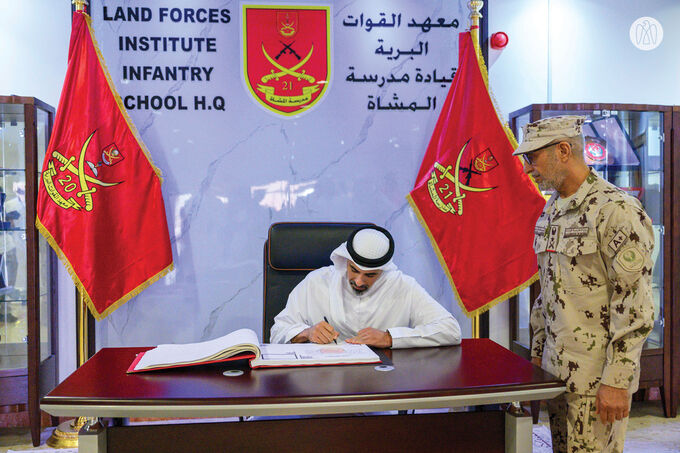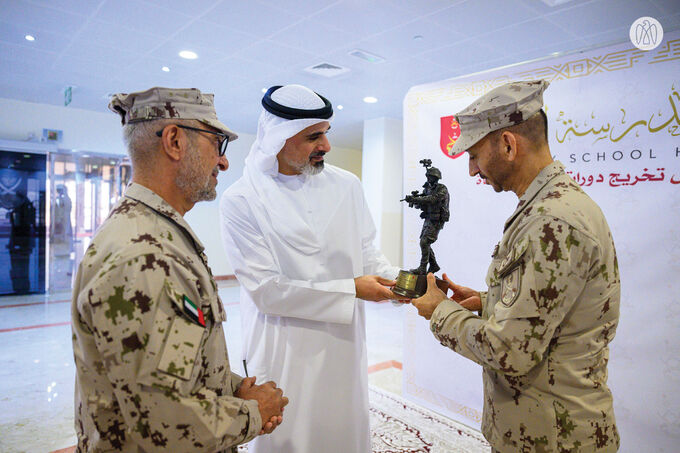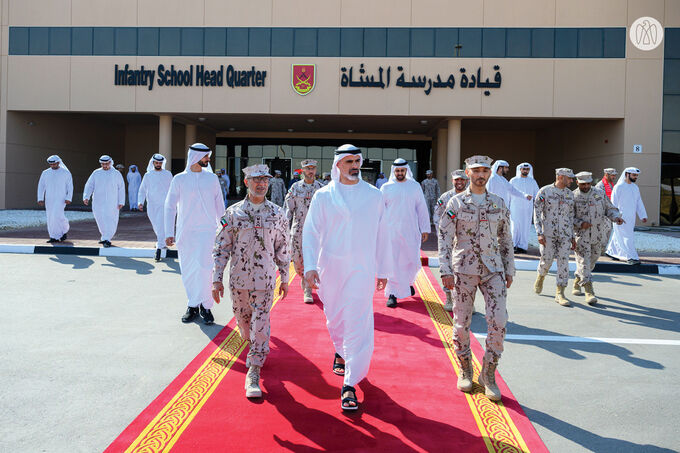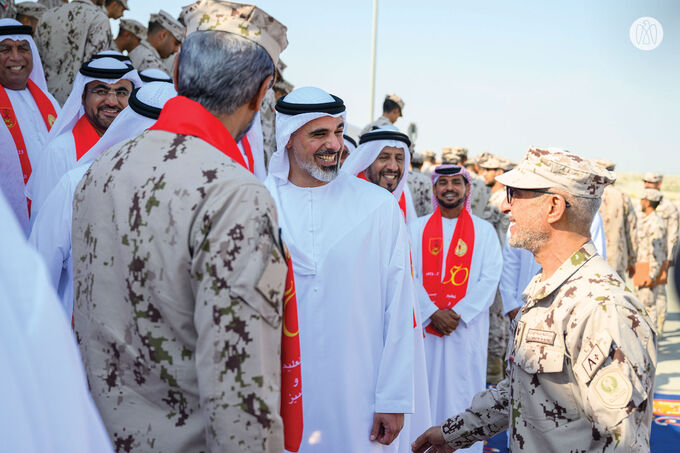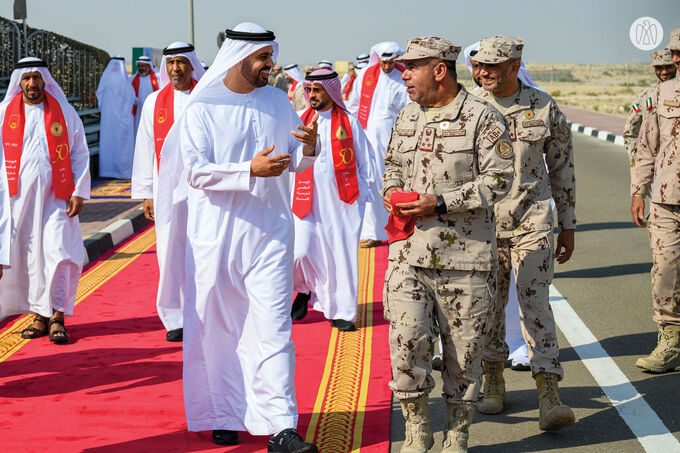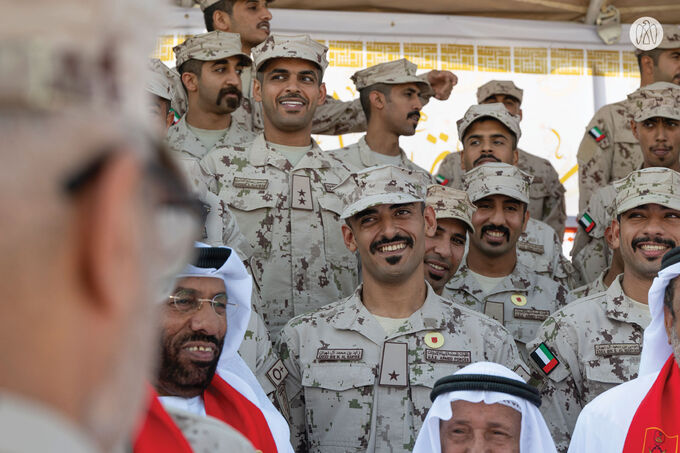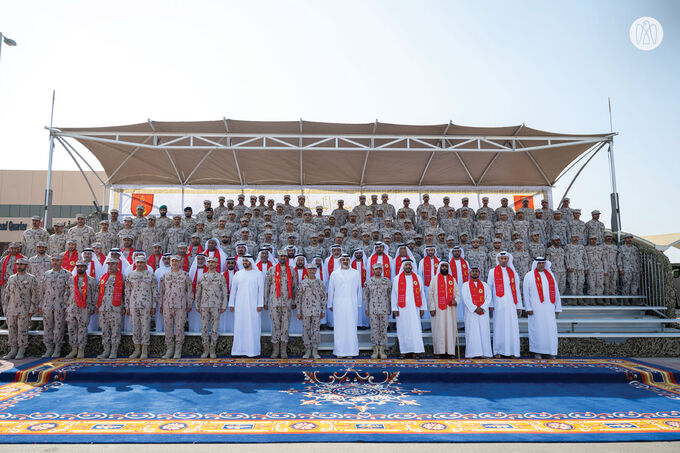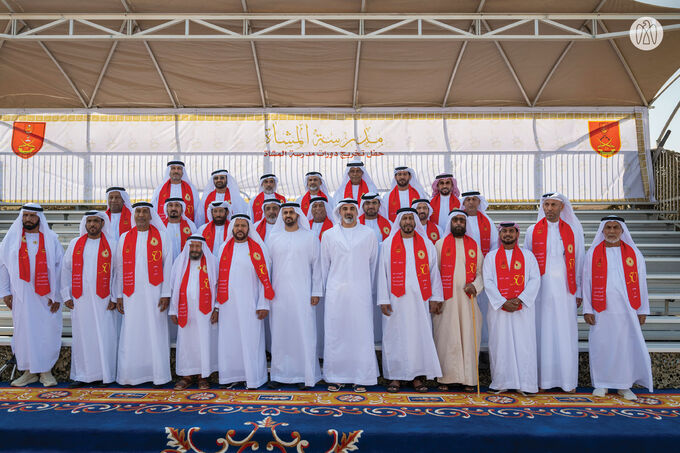 His Highness Sheikh Khaled bin Mohamed bin Zayed Al Nahyan, Crown Prince of Abu Dhabi and Chairman of the Abu Dhabi Executive Council, has attended the Land Forces Command's ceremony to celebrate the Infantry School's Golden Jubilee and the graduation ceremony of three mechanised infantry platoon commanders' courses, held today at the Land Forces Institute in Abu Dhabi.
The ceremony was also attended by His Highness Sheikh Theyab bin Mohamed bin Zayed Al Nahyan, Chairman of the Office of Development and Martyrs Families Affairs at the Presidential Court, His Excellency Lieutenant General Engineer Issa Saif bin Ablan Al Mazrouei, Chief of Staff of the UAE Armed Forces, and a number of senior officers and officials from the Ministry of Defence.
The ceremony began with the UAE national anthem followed by the reciting of verses from the Holy Qur'an, and a video presentation highlighting the long history of the Infantry School and its key role in preparing officers, non-commissioned officers and other ranks. The Infantry School is a specialised military academy that qualifies officers to carry out leadership roles, and to train students in schools, army units, and staff positions in the land forces and units of the Ministry of Defence.
Staff Colonel Muhammad Ali Al Balushi, Commander of the Infantry School, delivered a speech expressing his gratitude to the leadership for their commitment to enhancing the security and safety of the nation, and their interest in preparing national personnel with the skills to serve the nation's military and security sector and safeguard its achievements.
His Highness Sheikh Khaled bin Mohamed bin Zayed Al Nahyan honoured the top-achieving graduates, wishing them success in serving the UAE and maintaining the nation's security and safety. His Highness also honoured a number of the Infantry School's founding commanders, and took group photos.
His Highness Sheikh Khaled bin Mohamed bin Zayed Al Nahyan expressed his happiness at attending the Golden Jubilee celebration of the founding of the Infantry School, and highlighted its role in producing skilled UAE military graduates equipped with high-level skills and knowledge.
His Highness congratulated the school's leadership, members of the administrative and educational department, and all employees, wishing the school continued success in preparing qualified military graduates to defend the nation and safeguard its achievements.
The Infantry School was established in 1973 at Al Qasimia Camp in Sharjah, where it was inaugurated by the late Sheikh Khalifa bin Zayed bin Sultan Al Nahyan. The school was transferred to Al Ain in 1979, and in 2013, it joined the Land Forces Institute command.