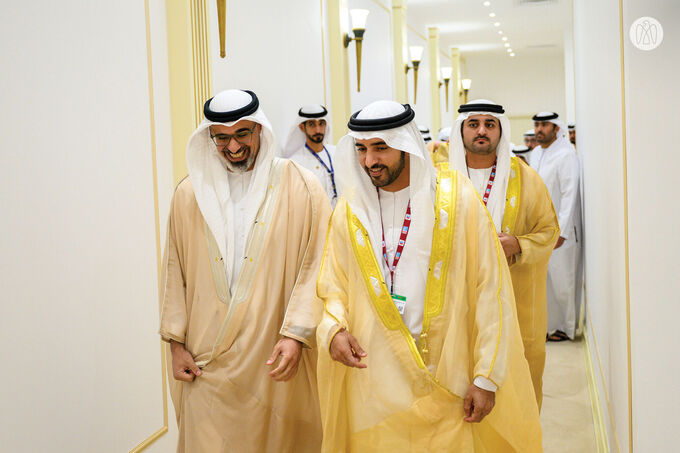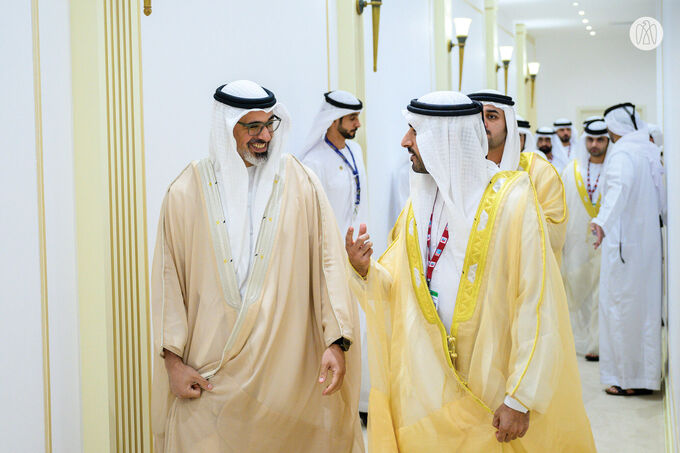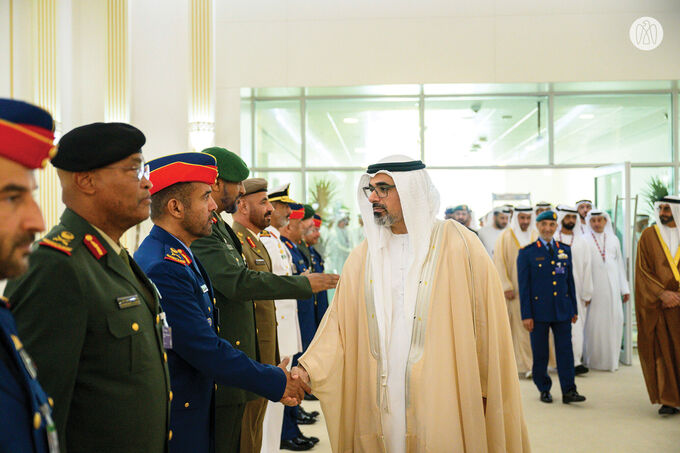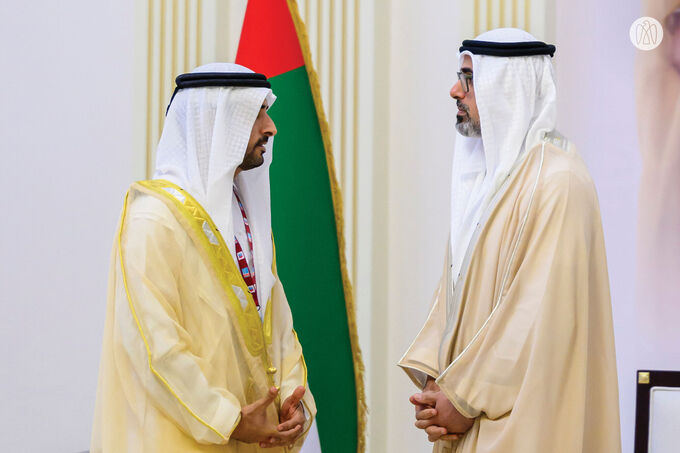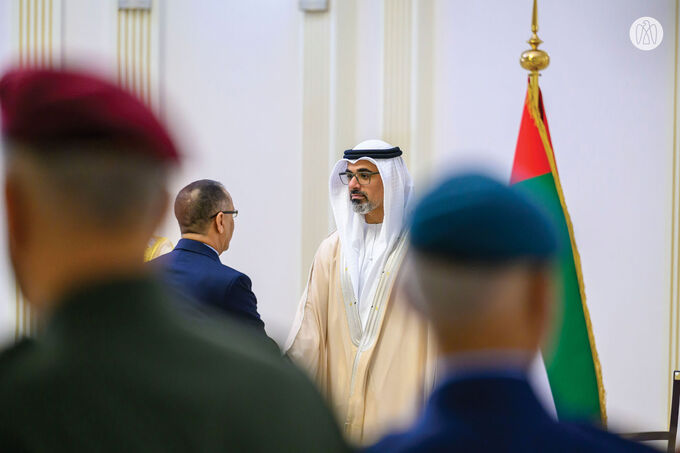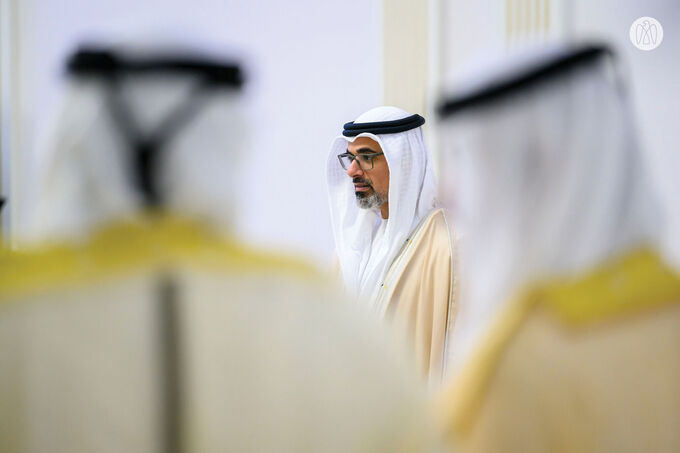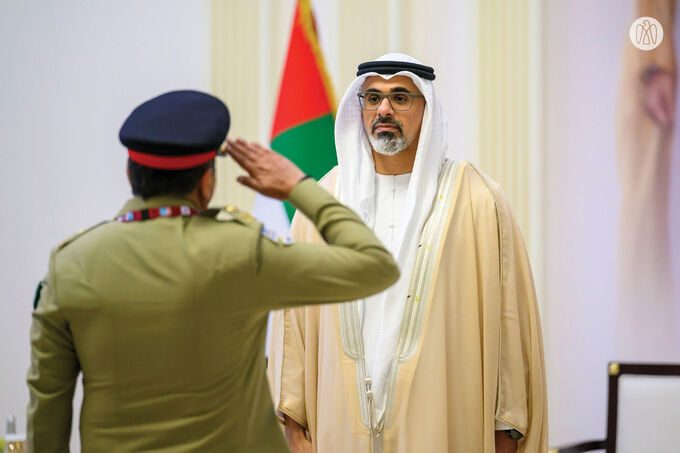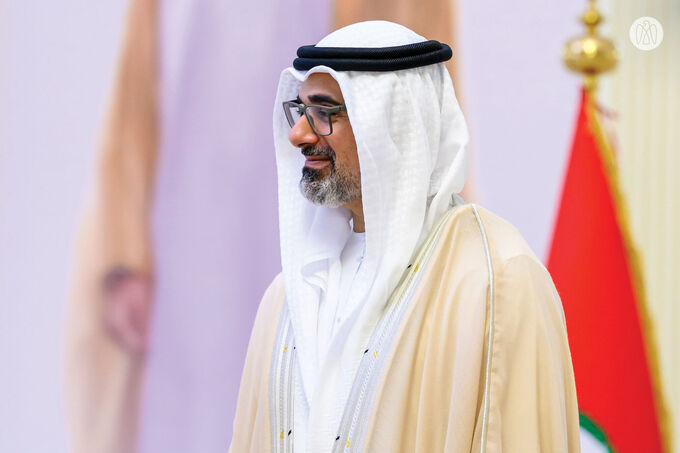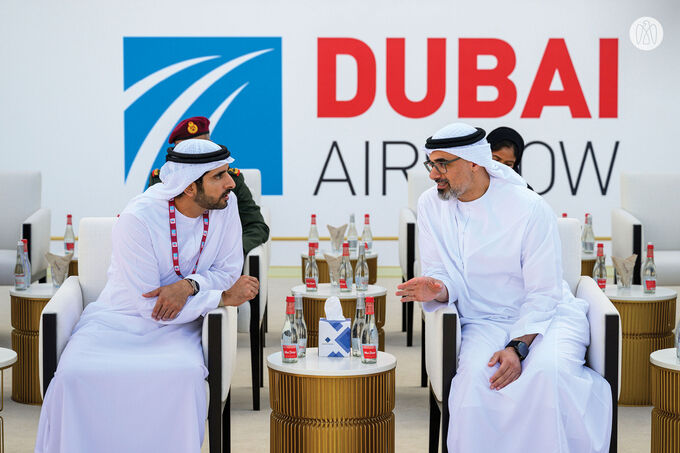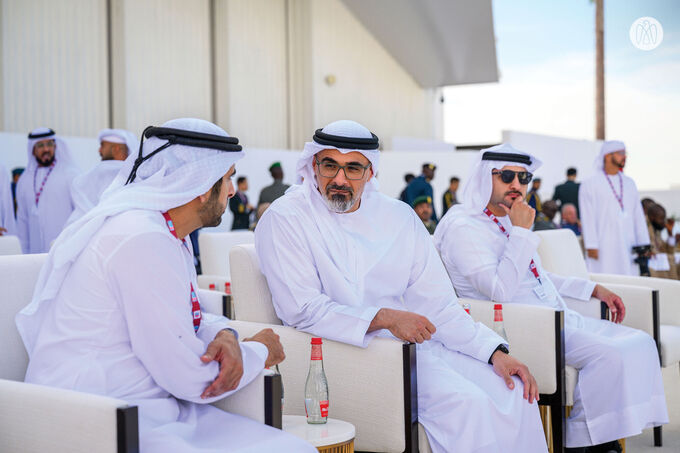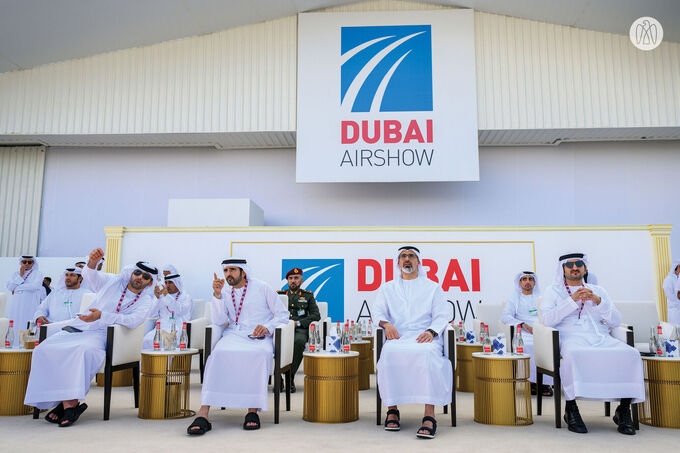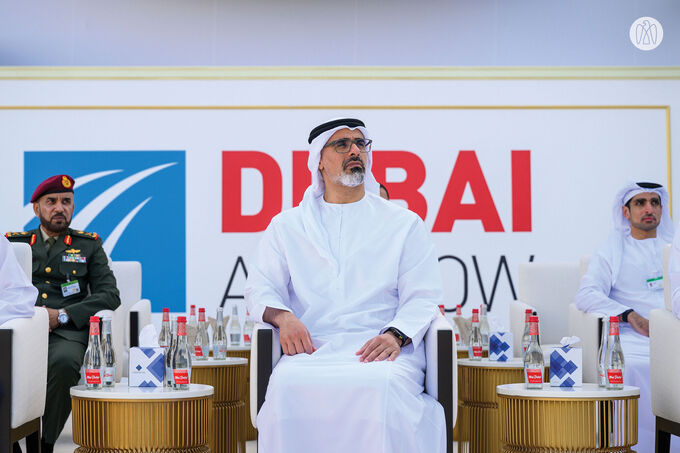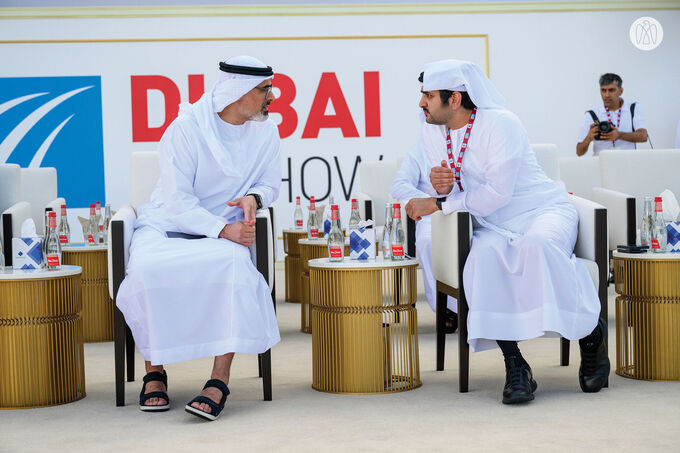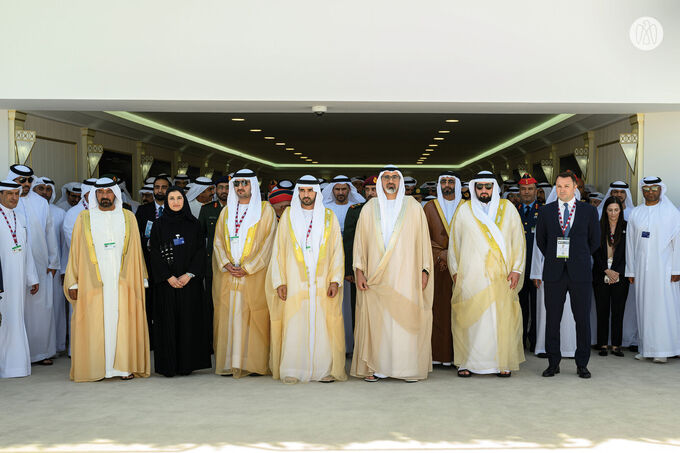 His Highness Sheikh Khaled bin Mohamed bin Zayed Al Nahyan, Crown Prince of Abu Dhabi and Chairman of the Abu Dhabi Executive Council, and His Highness Sheikh Hamdan bin Mohammed bin Rashid Al Maktoum, Crown Prince of Dubai and Chairman of The Executive Council of Dubai, received delegations attending the 18th edition of Dubai Airshow, the world's premier event for the aerospace, space and defence industries, which commenced today at the Dubai World Central (DWC). His Highness Sheikh Maktoum bin Mohammed bin Rashid Al Maktoum, First Deputy Ruler of Dubai, Deputy Prime Minister and Minister of Finance of the UAE, was also present on the occasion.
Their Highnesses welcomed the delegations that included ministers of defence, chiefs of staff and air forces chiefs. They extended their wishes for a successful participation in the event, marked by positive and fruitful outcomes and substantial contributions to strengthening sustainability in the aviation industry.
HH Sheikh Khaled said that Dubai Airshow is one of the most important events hosted by the UAE. He highlighted its evolution into a global event that has grown each year in local and international participation and diversity of industry solutions. His Highness also emphasised that the UAE, guided by the leadership's vision, is keen on continuing to make a positive impact on the international stage across various sectors, including aviation. He added that the country aims to strengthen its position as a platform enabling the world to unlock new stages of growth, leveraging its expertise and resources to play an influential role in achieving this goal.
HH Sheikh Hamdan bin Mohammed highlighted the event's rising global status and its crucial role in advancing the UAE's prominent position as a host of international events in various sectors. His Highness also underscored Dubai Airshow's role in fostering the growth of the global aviation industry, guided by the leadership's vision. This year's event reflects the UAE's commitment to promoting a global dialogue to enable key sectors to forge new partnerships that promote aviation industry growth, and Dubai's growing role in bringing stakeholders together to discuss global trends shaping the industry.
The reception was also attended by His Highness Sheikh Ahmed bin Mohammed bin Rashid Al Maktoum, Second Deputy Ruler of Dubai, along with His Highness Sheikh Ahmed bin Saeed Al Maktoum, President of Dubai Civil Aviation Authority, Chairman of Dubai Airports, and Chairman and Chief Executive of Emirates Airline and Group. Also present on the occasion were His Highness Sheikh Mansoor bin Mohammed bin Rashid Al Maktoum, Chairman of Dubai Ports and Borders Security Council; His Excellency Mohammed bin Ahmed Al Bawardi, Minister of State for Defence Affairs, and a number of military officials.
Their Highnesses also attended a flying display featuring several aircraft from the Airbus stable like the A320P2F, A321Neo, A330Neo, A400M Atlas CMk1, H225 helicopter and C295, in addition to the E195-E2 from Embraer, which is participating for the first time.
With participants from 148 countries, including more than 1,400 exhibitors and more than 300 international speakers, the Dubai Airshow, running until 17 November, brings together stakeholders and professionals from across the aerospace industry to foster collaboration, advance technology, explore the latest trends and push the boundaries of sustainable innovation.